Toshiba Aplio 400
Specifications
Request a quote
Description
Ask for availability
Please fill in the

contact form

for more information on availability on the Toshiba Aplio 400. In case it is not in stock we can source it for you through our network of trusted suppliers.
Request a quote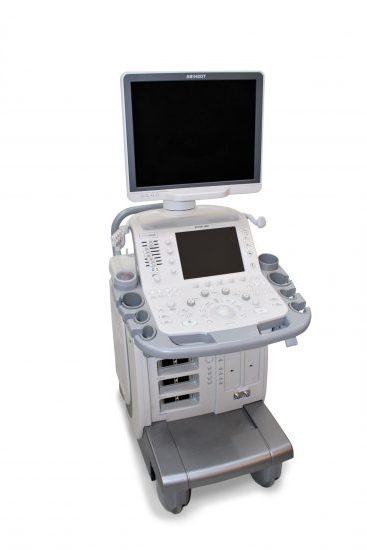 Toshiba Aplio 400 – General Information
The Aplio 400 provides excellent image quality and workflow due to several effective technologies. Its software-driven raw data platform allows it to grow with your clinic, as you can add more advanced applications as you need them. Furthermore, it comes with all the necessary tools to perform high-quality examinations, including expert volume imaging functions and quantification options.
The technologies on the Toshiba Aplio 400 reduce noise, strengthes the signal, and hereby improve visualization. They include the High Density Beamformer that uses advanced digital signal processing to ensure precision of the ultrasonic beams. Furthermore, they include Precision Imaging, ApliPure+ and of course a selection of lightweight transducers to increase versatility and quality. The Precision Imaging provides outstanding image details in layers and boundaries to increase visibility of lesions. While ApliPure+ provides more uniform images, while preserving significant markers. Moreover, it increases contrast and reduces speckle noise.
Additionally, the Toshiba Aplio 400 comes with a comprehensive 3D/4D volume imaging suite, that further extends the diagnostic capabilities. The options include Surface Rendering, Multi Planar Reconstruction, and Advanced volume imaging modes. They all increase visualization of the obtained data, the Surface Rendering for instance, adds a 3D effect to volumetric data to display surfaces of anatomical structures in a natural way.
The Aplio 400 ensures effortless and productive workflow, it is easy to navigate and new users will quickly be able to perform examinations with ease. Furthermore, the adjustable consoles, and mobility allows all users to create a good work environment in any setting. Additionally, you can customize the console to reflect your exact setting and everyday needs. This will further increase productivity as you can place all the functions you need right at your fingertips.
Request a quote
Request a quote for the Toshiba Aplio 400
LBN Medical is here to serve. Please fill out the contact form below and we'll get back to you as quickly as possible.