Specifications
Request a quote
Description
Ask for availability
Please fill in the

contact form

for more information on availability on the GE Vivid 7. In case it is not in stock we can source it for you through our network of trusted suppliers.
Request a quote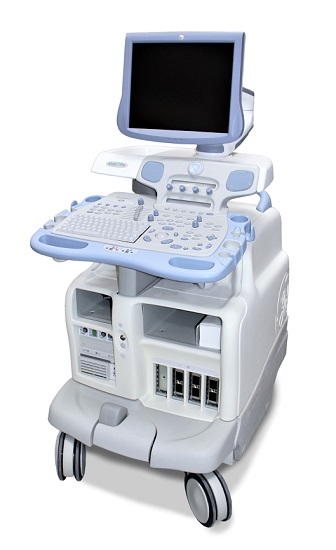 GE Vivid 7 – General Information
The GE Vivid 7 is a premium cardiac ultrasound system and has been very popular for several years. It delivers great image quality and image management.
The GE Vivid 7 has more innovative features, designed specifically to optimize cardiac examinations and the workflow for clinicians. However, GE has migrated the performance for general imaging and vascular examinations from the LOGIQ 9. Therefore it is a versatile ultrasound system.
It was put into production in 2001 and has been through several revisions. These are the: Vivid 7, Vivid 7 Vantage, Vivid 7 Pro, Vivid 7 Expert, and Vivid 7 Dimension. None of which are still in production. However, they are still popular as used or refurbished ultrasound systems and offer excellent value for money. The five different versions are very similar in looks. However there are some differences on the features, options and probes available for the different version. This does of course also vary with the BT versions of the systems. Feel free to contact our sales team with any questions regarding this or other matters.
Newer versions have excellent 4D imaging, including 4D volume, in color, in real time. Along with this are other features like Advanced Tissue Synchronization Imaging, that provides quantification of LV synchronicity information. And Automated Function Imaging that lets clinicians assess and quantify the motion of the left ventricle wall. Furthermore, it makes it easy for clinicians to report their findings
Regardless of version, the GE Vivid 7 is a stable and versatile system that is excellent for cardiac studies and easy to use.
Planning to buy ultrasound transducers together with your next ultrasound?
Then do not miss our blog post where you can learn about different probe types and how to select the right probe for your ultrasound.
Request a quote
Request a quote for the GE Vivid 7
LBN Medical is here to serve. Please fill out the contact form below and we'll get back to you as quickly as possible.