Siemens Somatom Sensation Comparison – Which One to Get
This article has been updated 13-07-2022
The Siemens Somatom Sensation series has had success worldwide. It offers several models to choose from. In this blog post, we will introduce and compare four models.
All the below systems are water-cooled and generally, require an outdoor chiller.
They operate on the syngo application platform, which is intuitive to operate and shares the design with that of other Siemens products. The multi-modality interconnectivity is popular among practitioners and is an advantage.
By the end of this article, you should have a good insight into the Siemens Somatom Sensation series available in the market for used medical equipment.
Let us get started.
If you would like to learn even more about CT scanners to prepare yourself for choosing a model, you can also sign-up for our mail course.
You will also receive an e-book: Guide to CT Scanners, it only costs your mail address.
Siemens Somatom Sensation 4 and 10
First, let's talk about the Somatom Sensation 4 and 10. These are the CT Scanners from this series that have been on the market the longest.
You can find Sensation 4 and 10 that have been manufactured in, for instance, 2001, 2002, or 2003.
Both are entry-level multislice CT scanners that can perform basic scans at a low cost. But they are becoming very rare in the market and we hardly see them anymore.
Siemens Somatom Sensation 16
This CT scanner has 16 slices and therefore delivers better performance than the 4 and 10.
Additionally, it comes with an optional feature, Straton, which allows for a faster gantry rotation speed of up to 0.37 seconds.
As the rest of the series, it provides solid technical capabilities that can serve a range of clinical applications.
The Somatom Sensation 16 carries several options that ensure good images. Therefore, it is a great choice if you are in need of good-quality images that can be obtained fast and with ease.
Furthermore, with the CARE Dose4D technology, it can produce images at lower doses.
Finally, this Siemens Somatom CT scanner has a number of features that are optional and can further extend its capabilities.
These features include the Speed4D Technology – A feature package that facilitates faster imaging speed.
If you are looking for a budget-friendly CT scanner with a stable performance, this system could be the right option.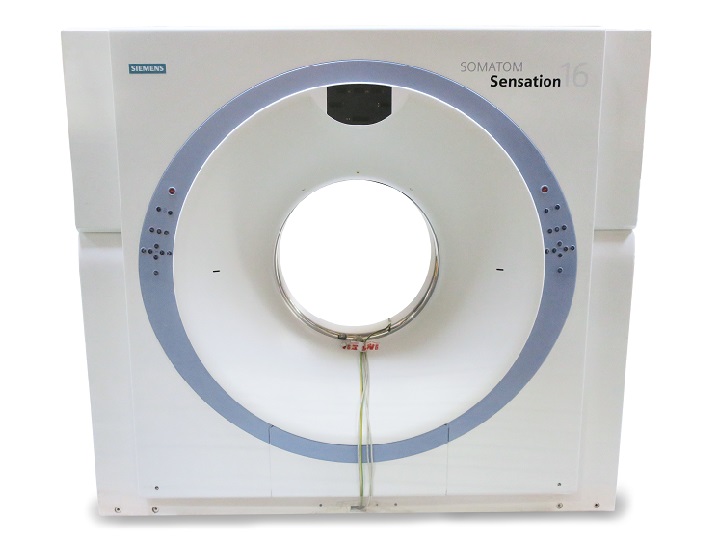 Siemens Somatom Sensation 40
This CT Scanner provides access to z-Sharp technology, which was introduced with the Sensation 64, and it comes with the Straton X-ray tube.
Siemens z-Sharp technology enables the acquisition of 40 slices per rotation and an isotropic resolution of less than 0.4-millimetre voxel size.
Siemens designed the Straton X-ray tube and z-sharp technology to eliminate the compromise between speed, resolution, coverage, and low dose. Hence, healthcare practitioners can always get good results.
Furthermore, the Straton tube offers efficient tube cooling. Hereby, you will have no delays due to cooling, not even after heavy use.
The z-Sharp technology utilizes two overlapping X-ray beams. That doubles the scan information without a corresponding increase in dose, which results in enhanced spatial resolution and image quality.
Also, the Sensation 40-slice comes with Care Dose4D and Speed4D technology that support workflow and dose management.
With the gantry rotation speed of up to 0.37 seconds, this Siemens Somatom CT scanner offers high spatial resolution and at the same time fast scan times.
Last but not least, the Sensation 40 can be upgraded to a 64-slice CT scanner.
Siemens Somatom Sensation 64
The last and most advanced Siemens CT Scanner in this line is the Somatom Sensation 64. It is a high-quality system that offers a range of excellent technologies and is great for cardiac imaging.
Siemens made sure that also the Somatom Sensation 64 can perform examinations at a low dose, thanks to the CARE Dose4D application. Additionally, this system comes with Adaptive ECG-Pulsing, which is Siemens' innovative heartbeat-controlled dose modulation.
Instead of using multi-segment reconstruction at higher heart rates, the high temporal resolution of the 64-slice enables you to obtain cardiac images from a single heartbeat.
Apart from the Adaptive ECG-Pulsing, it offers a sequential cardiac acquisition mode (known as 'step-and-shoot') that decreases the dose of cardiac procedures.
With this technique, you can target exposure to only the desired phase of heart movement. As a result, you can substantially reduce the dose in patients with low, regular heart rates. The additional dose reducing benefit of the Somatom Sensation 64 is that these scan areas are not overlapped, which makes it a truly low dose technique for cardiac acquisition.
To sum up, out of the Somatom Sensation series, Sensation 64 is the best for cardiac examinations.
Sum Up
Generally, we recommend that you consider the following points before purchasing your next CT Scanner:
The type of studies you will perform
Your budget
Your geographical location and competitive environment
Access to water supply
Type of your facility and number of patients
Your expectations for an upgrade
A higher slice count is not always better – The goal is to match the slices to your clinical needs and your budget.
If you need cardiac you will need more slices, however, for many other types of examinations the 16 slice will cover just fine.
If you would like more input on how to pick the right CT scanner you can read our full Guide to CT scanners or sign up for our mail course below. This will walk you through the main themes of the purchase and prepare you well. And the best thing is – The mail course only costs your e-mail adress.
Get the CT scanner e-mail course
Guide to CT Scanners
Prepare yourself for your next CT purchase with this extensive guide that covers the most important matters to consider when looking to buy a CT.