Siemens Somatom Sensation 64
Specifications
Request a quote
Description
In stock
Specifications for the Siemens Somatom Sensation 64
YOM: 2009
Software Version: VB42B
Slices: 64
Tube Model: Straton Z
Tube YOM: 2017
Tube Count: 261320
Options Installed: GET_WORKLIST, CAP3D_FILTER_SSD, CAP3D_FILTER_MIP, CAP3D_MAIN, CAP3D_VOIMODE, BOLUS_TRACK, CARE_DOSE, SYNGO GENERAL LICENSE, CAP3D_FILTER_VRT, CAP3D_EDITOR, HIGH_SPEED, POWER_TUBE, CARDIAC_SPEED_037, MMPS_SUPPORT, VOLUME_WORKFLOW, SENSATION64, CAP3D_BONEREMOVAL, DICOM_SR_VIEWER, MR_SUPPORT_i
Request a quote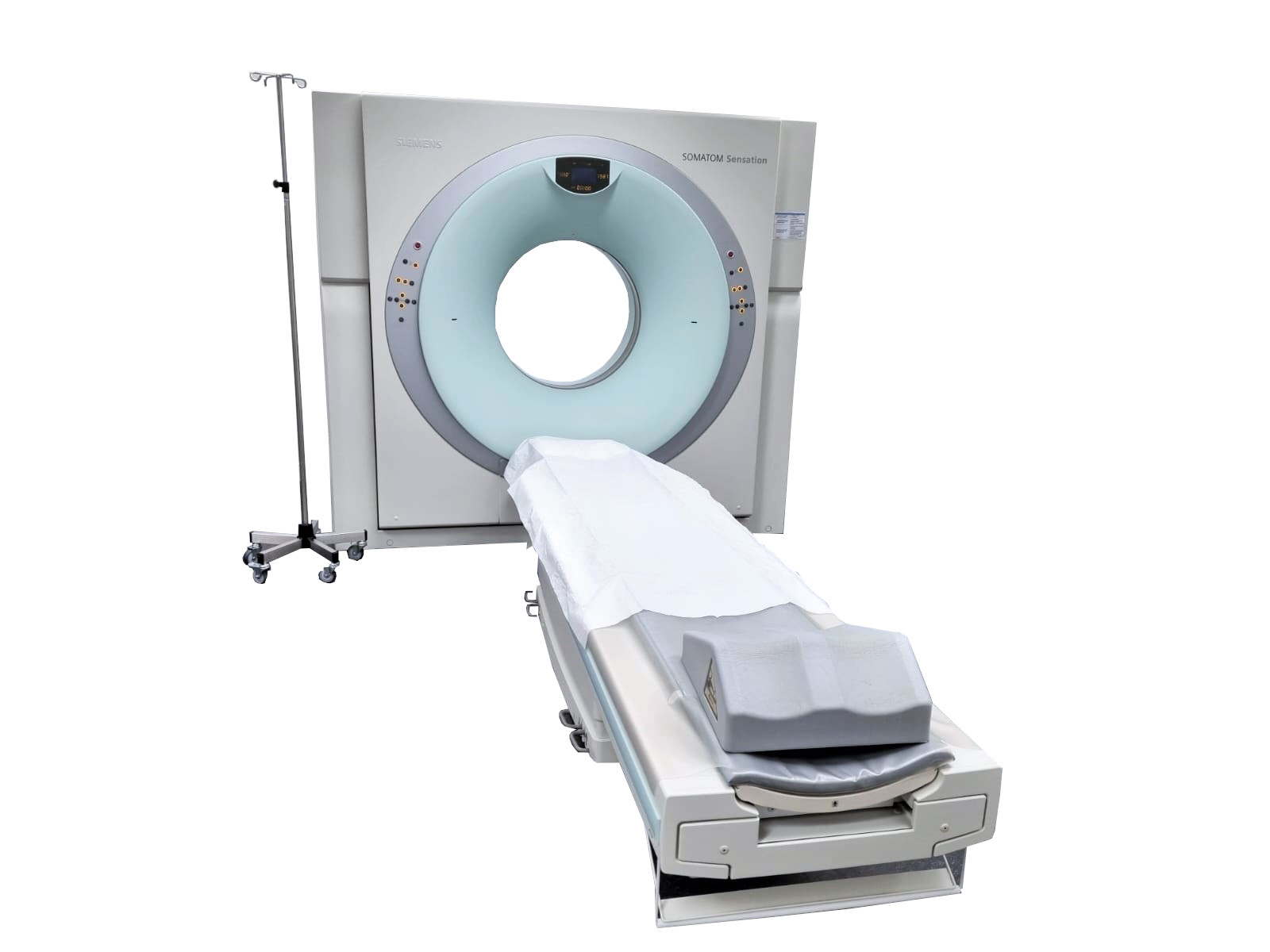 Siemens Somatom Sensation 64 – General Information
The Siemens Sensation 64 is a part of the popular Somatom CT line, that has a large install base worldwide. Siemens has been a large player in the CT market for many years now, and it shows. Thus, the Siemens Somatom Sensation 64 is a high quality Siemens CT scanner that offers a range of excellent technologies.
Siemens introduced the STRATON X-ray tube and z-sharp technology to remove the trade-off between speed, resolution, coverage, and low dose. Hereby, healthcare professionals can get optimal results, every time. The STRATON tube also offers very effective cooling of the tube, therefore, there will be no cooling delays, not even after demanding scans. The z-Sharp technology utilize two overlapping X-ray beams, and hereby the resolution is significantly increased. Furthermore, the Siemens Somatom Sensation 64 had the fastest 64-slice rotation time, at the time it came out.
Additionally, they ensured that the Siemens Somatom Sensation 64 can perform examinations with a low dose. This is due to their CARE Dose4D application, that adapts to each individual patient, which reduce the dose with up to 68%. Furthermore, they have developed tools that decrease doses in heart examinations, the sequential Step and Shoot, and Adaptive ECG Pulsing.
Naturally, the Siemens Sensation 64 also operates on the syngo application platform. Hereby, it is intuitive to operate, and it shares design with that of Siemens' other modalities. This is a unique trait for Siemens, and the multi-modality interconnectivity is popular among their users.
All in all it is a solid CT scanner with good features, that can satisfy a wide range of needs.
Request a quote
Request a quote for the Siemens Somatom Sensation 64
LBN Medical is here to serve. Please fill out the contact form below and we'll get back to you as quickly as possible.