Toshiba Aplio 500
Specifications
Request a quote
Description
Ask for availability
Please fill in the

contact form

for more information on availability on the Toshiba Aplio 500. In case it is not in stock we can source it for you through our network of trusted suppliers.
Request a quote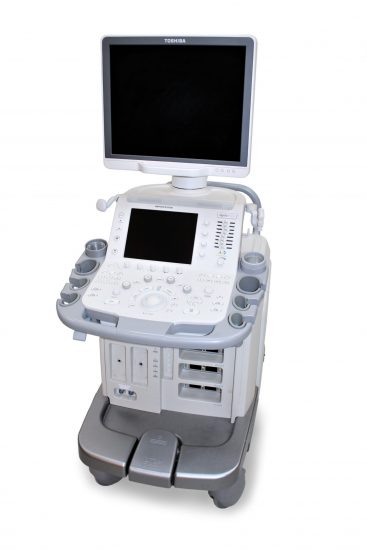 Toshiba Aplio 500 – General Information
The Toshiba Aplio 500 offers superior image quality and outstanding performance. This ensures clinical precision, diagnostic confidence, and high productivity. Furthermore, it has new innovative technologies such as Fly Thru and Smart Fusion that improves its ability to visualize pathologies.
Fly Thru allows healthcare professionals to explore cavities, ducts, and vessels from the inside in 3D. This results in images comparable to virtual endoscopy and gives an impressive view of these structures. Clinicians can apply this option anytime on all 3D volume data sets due to the raw data functionality of the system.
The Smart Fusion technology allows the Toshiba Aplio 500 to correlate images from different modalities in real-time. Hereby clinicians can locate lesions, navigate complex anatomy, or improve the precision of invasive procedures. Furthermore, they can work in any ultrasound imaging mode, including colour Doppler and contrast-enhanced ultrasound. The Position sensor ensures accurate spatial correlation of the images from the different modalities. Attach it to the transducer and it will hereby track the movement.
Additionally, the Toshiba Aplio 500 comes with real-time elastography, contrast quantification, wall motion tracking, and many more technologies that will improve examinations. It offers solutions for all aspects of the examination, from imaging and quantification to reporting and archiving, as it is a premium ultrasound system that has a top range of options and technologies.
All in all, the Aplio 500 is an excellent ultrasound system that offers outstanding image quality and abilities. This is due to the range of innovative solutions from Toshiba. It is a popular system that can cover the needs of even advanced imaging centers or clinics. A top end system requires a bigger budget, and the pre-owned systems are therefore also very much in demand, as they offer great quality at an attractive price.
If you want to learn more about the Aplio Series you can read our Aplio 500, 400, and 300 Comparison.
Request a quote
Request a quote for the Toshiba Aplio 500
LBN Medical is here to serve. Please fill out the contact form below and we'll get back to you as quickly as possible.
Watch Our Presentation of the Toshiba Aplio 500 and Aplio 300 Below