Siemens Mammomat Inspiration
Specifications
Request a quote
Description
Ask for availability
Please fill in the

contact form

for more information on availability on the Siemens Mammomat Inspiration. In case it is not in stock we can source it for you through our network of trusted suppliers.
Request a quote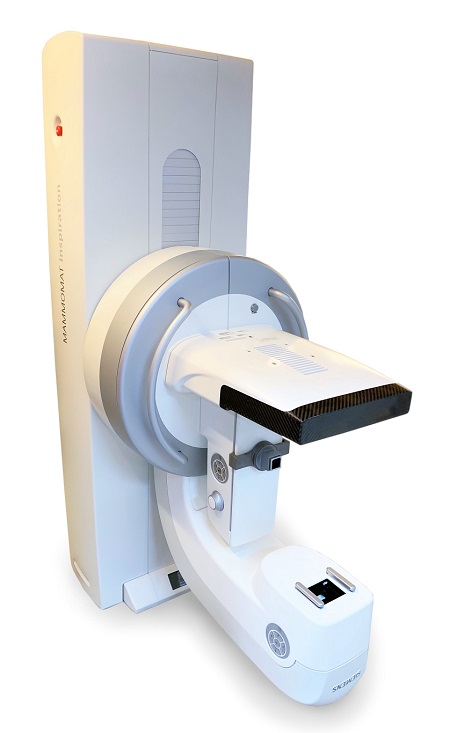 Siemens Mammomat Inspiration – General Information
This mammography system from Siemens offers excellent imaging quality that ensures early detection of abnormalities. This, in turn, increases the chances of early and hereby, successful treatment.
Healthcare providers all over the world can enjoy intuitive workflows and time saving features that includes the one-click-to image. This can improve the efficiency of the department as the efficient workflow turns into high patient-throughput. This will in turn increase profitability and make sure that you will get a fast return-on-investment.
Furthermore, it offers optimized workflows and patient comfort. The latter is ensured by individualized compression which limits compression for each patient, hereby reducing discomfort associated with mammography. This featured is implemented with the Opcomp® function. It monitors the pliability of the tissue and only increase compression to the point when the compression is optimal for image quality.
Newer versions of the Mammomat Inspiration also come with the MoodLight that creates a relaxed atmosphere.
To further improve patient safety, it has implemented low-dose technology to avoid unnecessary high exposures of x-rays. Additionally, it has three anode/filter combinations that will allow you to match breast density and thickness. The Opdose® software automatically selects the best combination of these, and the lowest possible dose. Additionally, the Siemens Mammomat Inspiration comes with Tungsten technology, which decrease exposure time and allows imaging of dense breast tissue.
The Mammomat Inspiration is a popular mammography unit from Siemens and is a reliable system that can cover a wide range of needs within mammography examinations.
If you want to preapare yourself for buying a mammography system you can read our article – Guide to Mammography.
It describes multiple aspects of choosing the right mammography, such as tomosynthesis, accessories, price ranges and more.
Request a quote
Request a quote for the Siemens Mammomat Inspiration
LBN Medical is here to serve. Please fill out the contact form below and we'll get back to you as quickly as possible.