Specifications
Request a quote
Description
In stock
Specifications for the GE Logiq S8
YOM: 2017
Software Version: R4.2.0
HW Accessories: ECG Cable, gelwarmer and foot switch
Application: Shared Service
Options Installed: Dicom, LOGIQView, CW Doppler, Advanced Probes
Request a quote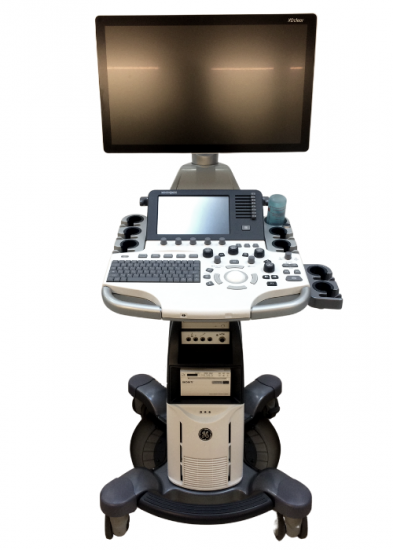 GE Logiq S8 – General Information
The Logiq S8 is a premium multi-purpose ultrasound imaging system. It has been designed for a variety of applications. Such as abdominal, vascular, breast, cardiac, small parts, gynecology, neonatal, pediatrics, urology, and transcranial applications.
This system is lightweight and you can easily fit it into small spaces. Nevertheless, it is packed with powerful, well-established technologies that deliver the high-quality imaging performance you require. With the Logiq S8, you can provide exceptional next-generation imaging for patients of all sizes.
Moreover, its versatile application-rich platform can easily processes both general and specialized imaging. And its effective image management tools will help you access vital information. The innovative architecture, powerful E-Series transducers, and other advanced technologies combined enhance the image quality.
One of the technologies is Agile Architecture. It dynamically optimizes image acquisition for virtually every body type. Hence, you can get remarkable images easily with minimal keystrokes, and achieve superb image uniformity.
The E-Series Transducers help improve sensitivity, penetration, spatial resolution,and image uniformity for greater clinical confidence. In addition, the S8 comes with High-Definition Speckle Reduction Imaging (SRI-HD). This technology helps increase contrast resolution and maintains tissue appearance.
Furthermore, the system will streamline your workflow. That will benefit both you and your patients. Because the more you enhance your workflow, the more time you can spend on patient care.
The Logiq S8 Ergonomic and Efficiency features
The system possesses many ergonomic and productivity features. Its ergonomic design helps increase comfort, convenience, as well as mobility, helping reduce user fatigue and risk of injury.
Finally, the GE Logiq S8 has efficiency features, such as Raw Data, Power, Compare, and Scan  Assistant, Wireless, and much more. These will ensure a reduction in keystrokes, consistency of your exams, and smooth archiving and reporting.
The Logiq S8 is highly affordable and with a wide range of clinical applications. It gives you the performance to price balance you wish to have in an ultrasound system.
If you want to prepare yourself for picking an ultrasound model, you can read our Guide to Ultrasounds.
Request a quote
Request a quote for the GE Logiq S8
LBN Medical is here to serve. Please fill out the contact form below and we'll get back to you as quickly as possible.
GE Logiq S8 Ultrasound Machine Presentation - LBN Medical