Specifications
Request a quote
Description
Ask for availability
Please fill in the

contact form

for more information on availability on the GE Logiq P6. In case it is not in stock we can source it for you through our network of trusted suppliers.
Request a quote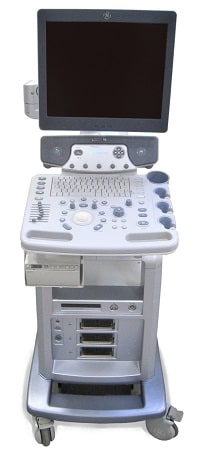 GE Logiq P6 – General Information
With the P6 you will be able to achieve clinical confidence. It delivers an ultrasound system small enough to go almost anywhere, but still strong enough to give you the exceptional imaging you need. It delivers high-quality images every time, and allows you to meet the needs of patients across multiple clinical settings.
This is all possible, because the GE Logiq P6 combines exceptional performance with its high versatility. Furthermore, it has advanced detail resolution and colour flow, which helps you easily distinguish between cystic and solid lesions. And with an increased level of detail and contrast resolution you can identify even the most challenging pathologies. These capabilities from the Logiq P6 helps optimize your ability for earlier diagnosis. Moreover, with its raw data capability you can save your postprocessing analysis for later, in order to minimize the interaction time with fragile patients.
The GE Logiq P6 has been designed using innovative leadership technologies from GE Healthcare. This includes an enhanced beamformer for deeper penetration, that delivers a higher resolution among better color flow sensitivity. In addition to these, the P6 comes with Speckle Reduction Imaging, that lets you heighten your visibility of organs and lesions. This is done with a high-definition contrast resolution that you can use to suppress speckle artifacts while maintaining a true tissue architecture.
Also, with real-time 4D imaging, you can acquire and construct volumetric images that displays multiplaner views of the anatomy. Lastly, with DualBeam technology you can maintain high frame rates while using high line density. This can increase temporal resolution in fast-flow cardiac and vascular studies. In short, the GE P6 gives you a clear image that leads you to the most confident decisions.
Request a quote
Request a quote for the GE Logiq P6
LBN Medical is here to serve. Please fill out the contact form below and we'll get back to you as quickly as possible.