Specifications
Request a quote
Description
Ask for availability
Please fill in the

contact form

for more information on availability on the GE Logiq 9. In case it is not in stock we can source it for you through our network of trusted suppliers.
Request a quote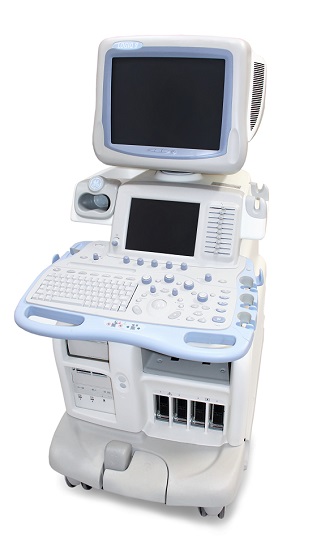 GE Logiq 9 – General Information
The GE Logiq 9 is an ultrasound with a high-performance. It does a multi-dimensional imaging for a full range of applications, such as abdominal, breast, or vascular imaging. And its ergonomic design increases comfort while scanning and improves the clinical workflow.
Radiology departments need premium equipment and advanced technology. This is to ensure that they can work effectively and provide the best care possible. GE designed the Logiq 9 for this purpose.
The system offers an extraordinary level of routine 2D imaging technology with powerful volume ultrasound capabilities and comprehensive information management. It has been engineered to improve diagnostic abilities while giving you as much information as possible.
GE built the system on the industry´s state-of-art and proven system architecture TruScan. This is a software-driven system platform which provides remarkable image quality and functionality. It also allows a clear upgrade path for coming breakthroughs.
The GE Logiq 9 ultrasound and new 4D transducers bring real-time techniques for acquiring, optimizing, and navigating volumetric images. Therefore, you can make clinical decisions with a high level of confidence. By adding 4D imaging capabilities to the superior 2D image quality, the system allows you to make multi-planar imaging part of your clinical routine.
With this system, you can instantly acquire and build volumetric images – up to 30 volumes per second. Moreover, you will experience clinical and productivity benefits with Volume Ultrasound. Benefits such as more comprehensive and reliable exam data, greater diagnostic confidence, faster patient exams, and improved patient comfort.
Furthermore, this ultrasound will make your work more comfortable, streamlined, and efficient. A set of features called SonoErgonomics includes an optimized position for viewing the 17″ high-resolution monitor, a floating keyboard, one-touch efficiency, voice-activated operation, and more.
Request a quote
Request a quote for the GE Logiq 9
LBN Medical is here to serve. Please fill out the contact form below and we'll get back to you as quickly as possible.