GE Voluson 730 Expert/Pro
Specifications
Request a quote
Description
Ask for availability
Please fill in the

contact form

for more information on availability on the GE Voluson 730 Expert/Pro. In case it is not in stock we can source it for you through our network of trusted suppliers.
Request a quote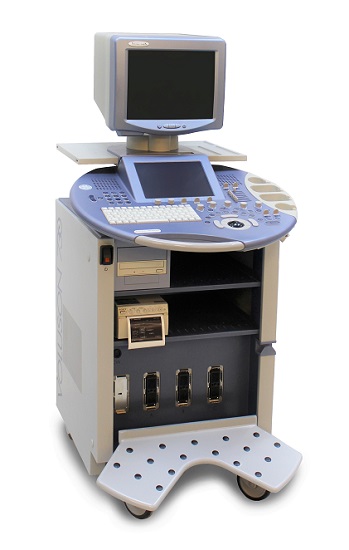 GE Voluson 730 Expert – General Information
The Voluson 730 Expert belongs among the top ultrasounds in the medical equipment industry. This system is a more advanced version of the Voluson 730 Pro, and is improved with a touchscreen interface and higher frame rates in 2D and 4D. Additionally, it has advanced imaging options such as STIC and TUI.
While working on the Voluson 730 Expert, GE collaborated with clinicians around the world. Together they developed a series of advanced applications to make this ultrasound the system of choice. Therefore, it delivers a wide array of image optimization, reporting and archiving capabilities with the accuracy of digital processing.
With the GE Voluson 730 Expert, you can get and construct volumetric images in real time – up to 40 volumes per second. Therefore, clinicians can explore images on any level. It can reveal the smallest details with amazing clarity. Moreover, it uses sophisticated analytical tools to answer virtually any of your clinical questions.
Its special 3D and 4D capabilities meet the needs of clinicians and patients alike with a range of relevant capabilities across a range of applications. Including obstetrics, gynecology, breast, small parts, musculoskeletal, and abdominal studies. Furthermore, GE has also introduced a new approach to image the fetal heart – DiagnoSTIC with color and angio. It is a method to see a multiplanar view of the fetal heart for a full cycle.
The result is a 4D real-time data set of one heart cycle. Hereby, clinicians have exceptional flexibility to rotate the image data for unlimited viewing angles, including four-chamber views. Furthermore, it lets you analyze the data in a multi-planar view during a heartbeat, freeze the image at any stage of the cycle, and utilize full measurement capabilities.
Request a quote
Request a quote for the GE Voluson 730 Expert/Pro
LBN Medical is here to serve. Please fill out the contact form below and we'll get back to you as quickly as possible.
GE Voluson 730 - Ultrasound Presentation