Specifications
Request a quote
Description
Ask for availability
Please fill in the

contact form

for more information on availability on the GE Logiq S7 Expert. In case it is not in stock we can source it for you through our network of trusted suppliers.
Request a quote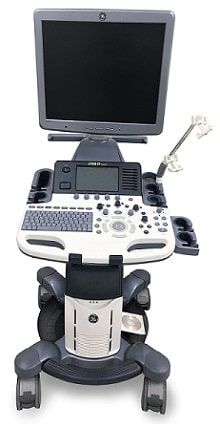 GE Logiq S7 – General Information
The GE Logiq S7 is a mobile ultrasound that allows for flexibility in the workspace. It is well equipped for multiple applications such as vascular, cardiac, abdominal, OB/GYN, musculoskeletal, and small parts imaging.
The Logiq S7 can provide an outstanding image quality at a great speed. In connection to the range of applications, this ultrasound machine has an advanced S-Agile architecture, advanced transducers, and image optimization tools that help deliver excellent and clear images.
Moreover, it has several smart design options such as system adjustability. It allows the operator to adjust according to his height and preferences in order to obtain a great viewing angle when examining. Additionally, this system has a Scan Assistant which is a scanning program that helps reduce exam time and increase consistency of examinations and diagnosis.
The GE Logiq S7 is one of the most energy efficient ultrasounds in the industry. It contributes to a better environment by using less energy and saves money. Finally, this system has an affordable price and will be able to meet your expectations.
All ultrasound systems have probes that need good probe protection. Therefore, we recommend that you read the article to learn how to take care of your transducers.
The price range for pre-owned ultrasounds might be confusing. Watch our video about the ultrasound system costs to see the differences between new and used ultrasounds.
Get in touch with LBN Medical team for more information. We are always ready and very happy to assist you with any questions or requests.
Request a quote
Request a quote for the GE Logiq S7 Expert
LBN Medical is here to serve. Please fill out the contact form below and we'll get back to you as quickly as possible.