GE Senographe Essential BIOPSY
Specifications
Request a quote
Description
Ask for availability
Please fill in the

contact form

for more information on availability on the GE Senographe Essential BIOPSY. In case it is not in stock we can source it for you through our network of trusted suppliers.
Request a quote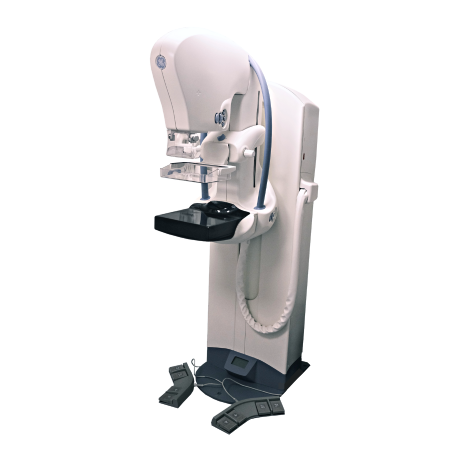 GE Senographe Essential BIOPSY – General Information
The Senographe Essential has evolved into an all-in-one breast health solution, now equipped with cutting-edge Biopsy technology. This innovative addition broadens its capabilities beyond screening examinations and diagnostic views, making it a versatile tool for comprehensive breast care.
The Senographe Essential with Biopsy capability takes your diagnostic capabilities to the next level by smoothly incorporating advanced biopsy technology. This invaluable addition allows healthcare professionals to perform precise and minimally invasive breast biopsies with renewed confidence. The system offers real-time guidance and imaging, allowing for precise targeting of suspicious areas within the breast tissue.
Streamlined Workflow
Radiologists and clinicians can seamlessly transition from imaging to biopsy, reducing patient discomfort and procedure times. This comprehensive approach improves overall efficiency in breast health clinics.
Enhanced Imaging
The Biopsy technology allows the system, which is known for its image quality, to produce even sharper and more detailed images. This ensures that healthcare providers have the most up-to-date information for diagnosis and treatment planning. Biopsy images are captured and displayed alongside other breast imaging modalities. That allows for a thorough examination.
Patient Comfort
GE Senographe Essential puts patient comfort and convenience above all else. It has been carefully designed to reduce patient anxiety during biopsy procedures. It creates a comfortable and supportive environment that not only relaxes patients but also allows for accurate and efficient biopsy sample collection.
Seamless Data Management
The Acquisition Workstation (AWS) has been improved so that biopsy data can be seamlessly integrated into the patient's digital record. This detailed patient history can be used for future reference, follow-up appointments, and treatment planning. This ensures that important information is readily available and contributes to the patient's ongoing care.
Options for Every Need
Optional features for the Senographe system continue to include a review workstation, a mass archiving system, a laser camera, networking capabilities, and CD-ROM interchange media. These options can be tailored to the health facility's specific requirements.
You are welcome to reach out to us for more information on the system through the contact form on the page. We also source on-demand, in case the model you want is not currently in stock.
You can also learn more about mammography systems in general in our article: Guide to Mammography systems.
It covers subjects such as brand and series, price ranges, and accessories.
Request a quote
Request a quote for the GE Senographe Essential BIOPSY
LBN Medical is here to serve. Please fill out the contact form below and we'll get back to you as quickly as possible.