GE Senographe Essential
Specifications
Request a quote
Description
Ask for availability
Please fill in the

contact form

for more information on availability on the GE Senographe Essential. In case it is not in stock we can source it for you through our network of trusted suppliers.
Request a quote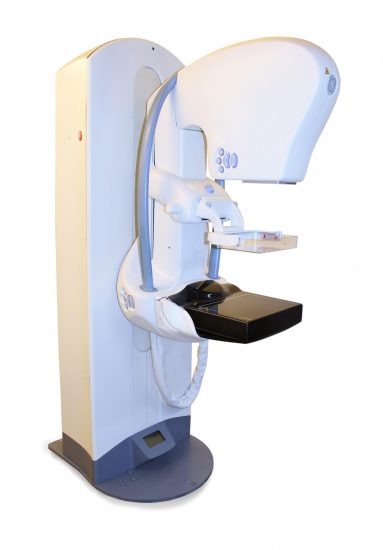 GE Senographe Essential – General Information
GE developed the Senographe Essential in their quest to provide the optimal image. This will ensure earlier detection and hereby better treatment options for diseases. The large active field of view of 24×31 cm allows for easy imaging of even larger breasts in one exposure. Furthermore, GE has provided a platform that will work with current and future applications, to ensure that the system is a sound long-term investment.
GE equipped the Essential with several technologies to improve image quality. For instance, the tube is smaller and comes with the Rhodium track. The Rhodium increases the contrast and visibility of lesions in more dense or challenging breasts. Additionally, it has a flat-panel digital detector that ensures sharp image resolution with decreased levels of noise. Furthermore, it comes with the Tissue Equalization and Premium View that increase both image quality and the reading speed on the workstation.
The Senographe Essential is user-friendly and offers a fast and efficient workflow, with fewer retakes. Its user friendliness is secured with pre-set gantry positioning that are easy to reset, paddle-auto-detection, and automatic collimation. Not only comfortable for users, but also for patients, it comes with flexible, off-centered, ergonomic paddles. Additionally, the chest compression is optimized to ensure both patient comfort and improved image quality. The silence, ergonomic shape, and dose reduction, also add to the positive experience for both healthcare professionals and patients.
Furthermore, Seno Advantage 2 works well with the Senographe Essential. The Seno Advantage 2 Review Workstation offers power and functionality when analyzing images.
All in all, this mammography system provides excellent image quality and is a good investment, and the used Essential offers great value for money.
If you want to learn more about mammography systems and prepare yourself for choosing a model. We recommend our Guide to Mammography.
It covers a range of themes such as analog vs. digital, price ranges of mammography systems, accessories and more.
Request a quote
Request a quote for the GE Senographe Essential
LBN Medical is here to serve. Please fill out the contact form below and we'll get back to you as quickly as possible.