GE Senographe Essential 3D
Specifications
Request a quote
Description
Ask for availability
Please fill in the

contact form

for more information on availability on the GE Senographe Essential 3D. In case it is not in stock we can source it for you through our network of trusted suppliers.
Request a quote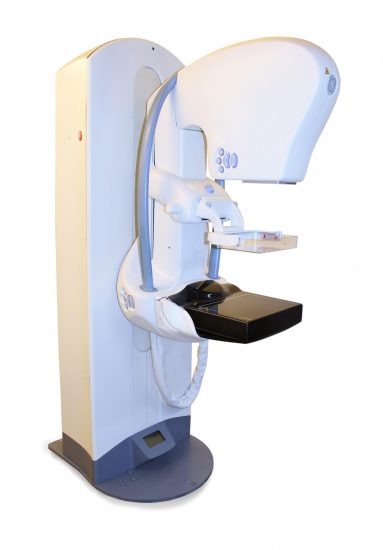 GE Senographe Essential 3D – General Information
The GE Senographe Essential, now equipped with 3D technology, is the latest evolution in digital mammography systems. This sophisticated system is designed to perform screening examinations as well as diagnostic views such as spot compression, magnified, and coned views. It uses digital technology for on-screen image display, networking, filming, and archiving. It also introduces a modular design that eliminates the need for film cassettes.
With TOMO technology, the GE Senographe Essential achieves remarkable advancements in breast imaging. The system's dual-track X-ray tube, which is molybdenum and rhodium-plated, ensures precise imaging for a wide range of breast types and conditions, providing unrivaled image clarity.
The advanced digital detector maximizes X-ray detection capabilities. It captures every detail with precision, thanks to its amorphous silicon panel and cesium iodide deposition.
Real-time image processing allows near-real-time image acquisition, processing, and manipulation. For precise diagnostics, radiologists can adjust brightness and contrast levels on the fly.
Improved productivity over screen film significantly increases examination productivity and introduces new applications, such as streamlined networking and archiving, improving workflow efficiency.
An Acquisition Workstation (AWS) with a monitor, keyboard, mouse, or trackball, computer, electronics, and an uninterruptible power supply (UPS) are all part of a user-friendly control station.
The AWS acts as a centralized hub for image acquisition, processing, display, and database management, allowing for real-time image evaluation, parameter adjustments, and seamless archiving, networking, and filming.
The GE Senographe Essential Toomo provides a variety of options to meet a wide range of clinical requirements. An optional Review Workstation, a stand-alone workstation with dedicated hardware and high-speed AWS connectivity, supports image display, manipulation, networking, and printing. Furthermore, it is outfitted with high-resolution monochrome monitors and a dedicated keypad for advanced image analysis.
Experience the Future of Mammography with GE Senographe Essential and 3D technology, where precision, efficiency, and advanced diagnostics come together to provide the best possible patient care.
You can also learn more about mammography systems in general in our article: Guide to Mammography systems.
It covers subjects such as brand and series, price ranges, and accessories.
Request a quote
Request a quote for the GE Senographe Essential 3D
LBN Medical is here to serve. Please fill out the contact form below and we'll get back to you as quickly as possible.