Fuji Capsula XL II
Specifications
Request a quote
Description
Ask for availability
Please fill in the

contact form

for more information on availability on the Fuji Capsula XL II. In case it is not in stock we can source it for you through our network of trusted suppliers.
Request a quote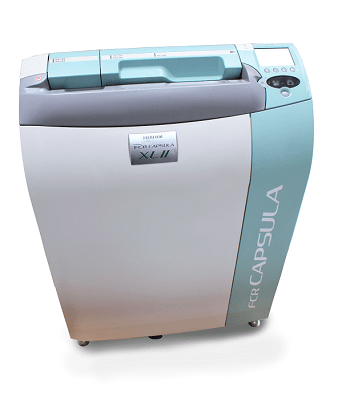 Fuji Capsula XL II – General Information
The Capsula XL II is a high-quality CR system with great processing power and a small footprint. It comes with state of the art features, and enables an extremely high throughput. This is impressive, considering its size, and the fact that it is a CR system with only a single slot for plates. It has the optional capability of 50-micron reading with high resolution imaging plates (HR-V and HR-VI). HR-VI provides even better image quality compared to the HR-V.
A key component is the Imaging Plate, or IP that is used in place of x-ray film to digitalize images. The Capsula XL II has an extremely compact IP, hereby allowing the it to be a very compact system. Actually, Fuji named named it for its size, as Capsula means "small box" in Latin. However, it is only size, and not image quality and processing power that has been reduced. It covers a wide range of diagnostic imaging needs, and processes up to 90 IPs/hr. Furthermore, the time to display images on the CR console monitor is only 23 seconds.
Designed for ease of use the Fuji Capsula XL II is capable of automatically starting the IP reading and image processing when a cassette is inserted. Moreover, you can complete the reading cycle with simple operations. Furthermore, healthcare professionals can easily change the settings with easily accessed buttons on the monitor screen. Hereby, the clinicians can be even more effective in their everyday practice.
The console of the Fuji Capsula XL II handles complex procedures of digital x-ray imaging, patient ID, reviewing, processing, printing, DICOM interface, and more. Furthermore, it provides quality assurance functions as well – all in a single workstation.
You can reach out to our team through the contact form, for more info on this model, or any other model that you might be interested in.
If we do not currently have it in stock, we also source on demand through our network of trusted suppliers.
Visit our Learning Centre to learn more about the different types of equipment that we offer.
Request a quote
Request a quote for the Fuji Capsula XL II
LBN Medical is here to serve. Please fill out the contact form below and we'll get back to you as quickly as possible.