Canon Infinix CF-i
Specifications
Request a quote
Description
In stock
Specifications for the Canon Infinix CF-i
YOM: 2010
Software Version: 4.50R008
Tube YOM: 2020/2010
Single Plane / Biplane: Biplane
Floor/celing mounted: Floor Mounted
Detector Size: 20x20cm
Application: Cardio
Request a quote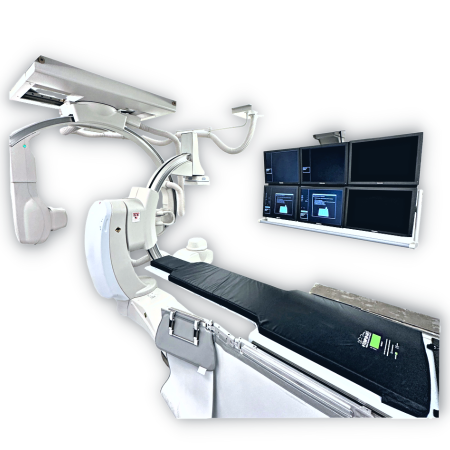 Canon Infinix CF-i – General Information
The Canon Infinix CF-i is an advanced digital imaging system used for diagnosing and treating cardiovascular diseases with unmatched accuracy and efficiency. This system combines user-friendly design with reliable performance, setting a new standard in cath lab technology.
The Infinix CF-i is equipped with advanced imaging technologies from Canon, ensuring exceptional precision and image quality. This allows clinicians to perform diagnostic and interventional angiography procedures with confidence. With its 20-cm-square measurement and one-piece flat panel digital detector, the system provides a clear and detailed visualization of the cardiovascular system. This enables accurate diagnosis and precise guidance during interventions, helping healthcare professionals deliver optimal care to patients.
Safety is paramount, and the Infinix CF-i addresses this with its innovative dose efficiency management. This advanced feature significantly reduces dose exposure for both patients and staff without compromising image quality. With the Infinix CF-i, you can deliver exceptional care while prioritizing the well-being of everyone involved in the cath lab procedures.
The Canon Infinix CF-i offers a range of features and options that enhance its functionality and streamline workflow. Table-side control boxes and control cabinets provide convenient access to critical functions, allowing clinicians to make adjustments effortlessly during procedures. External chillers ensure continuous water cooling, optimizing performance and prolonging the system's lifespan. Moreover, the system offers ceiling- and floor-mounted radiation protection, ensuring the highest level of safety for both patients and healthcare professionals.
Its combination of reliability, advanced imaging capabilities, and workflow integration makes it a valuable asset for any cardiovascular care facility. Whether you're performing routine diagnostics or complex interventions, the Infinix CF-i is designed to elevate your capabilities and optimize patient outcomes.
Reach out through the contact form on this page to get more information about the Cath-labs currently in stock.
You can also read more about Cath labs to prepare yourself for your next purchase in our Cath Lab Machine Price.
Request a quote
Request a quote for the Canon Infinix CF-i
LBN Medical is here to serve. Please fill out the contact form below and we'll get back to you as quickly as possible.