GE Innova 2100
Specifications
Request a quote
Description
In stock
Specifications for the GE Innova 2100
YOM: 2008
Software Version: Unity 4.19.14, ATL 4.2-8_8
Tube Model: Performix 160A
Tube YOM: 2018
Single Plane / Biplane: Single Plane
Floor/celing mounted: Floor Mounted
Request a quote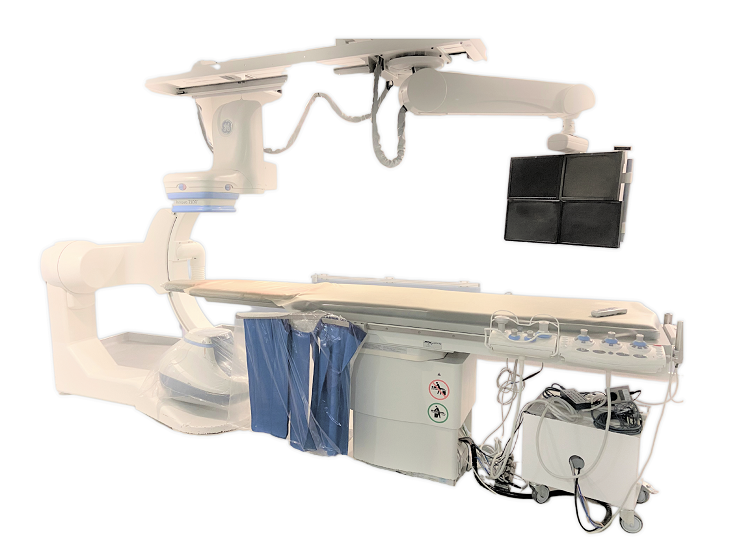 GE Innova 2100 – General Information
The GE Innova 2100 IQ is an excellent digital cath/angio imaging system that helps diagnose and treat cardiovascular diseases. It is designed to be easy-to-use, but reliable, with an exceptional performance. In addition, it allows clinicians to simply reach different patients' positions as it is needed during examinations.
The measurement of the Innova 2100 IQ is 20-cm-square. Additionally, the machine has a one-piece flat panel digital detector. Moreover, this system consistently provides an outstanding and advanced image quality while supporting physicians to perform diagnostic and interventional angiography procedures.
It is important to mention that the Innova 2100 IQ has an innovative dose efficiency management that reduces dose exposure to both patients and staff.
Furthermore, it has many features and options available. Some of the great features are table-side control boxes and control cabinets; or external chillers that provide continuous water cooling. Another example is the ceiling- and floor-mounted radiation protection.
In conclusion, this great X-ray machine is unique and a cost effective medical system that delivers exceptional results.
To learn more about the GE Innova 2100 IQ, its availability and price range, please contact us. We are always happy to discuss your options or requests, and answer your questions regarding this or any other medical imaging equipment.
Additionally, if you are interested in purchasing other X-ray systems, we recommend you to check out this list of used X-ray machines.
Request a quote
Request a quote for the GE Innova 2100
LBN Medical is here to serve. Please fill out the contact form below and we'll get back to you as quickly as possible.