Pros and Cons of Tomosynthesis Mammography Systems
This article will cover the main pros and cons of tomosynthesis mammography, also called 3D mammography.
The feature is increasingly popular, but what exactly is it – Let us start there.
What is Tomosynthesis?
Tomosynthesis is a special type of mammography that uses low dose X-rays obtained at different angles and computer reconstructions to produce three-dimensional images of the breast. Rather than the standard 2D images.
Therefore, tomosynthesis can be also called 3D mammography or digital breast tomosynthesis (DBT).
Tomosynthesis serves to assist better in early detection and diagnosis of breast cancer, when it is most treatable.
If you prefer, you can sign up for our e-mail course, which will walk you through the main points to consider when purchasing a mammography system.
That will also give you access to an e-book about mammography machines.
Join the mammography mail course
Main Differences of Conventional and Tomosynthesis Mammography
Mammography and tomosynthesis are almost the same, and are used to detect abnormal changes in breast tissues.
To this day, mammography is the best tool for breast cancer screening.
However, it may not detect all breast cancer. And thus, the tomosynthesis option has been developed for better outcomes.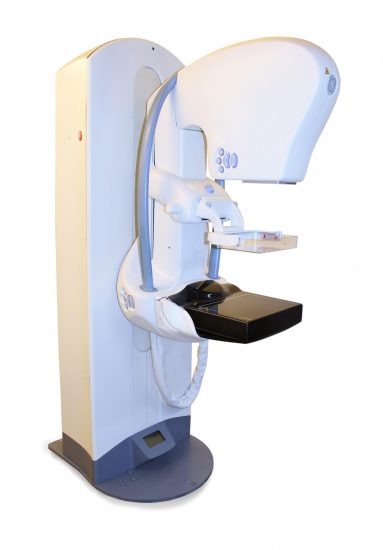 Regular mammography obtain standard 2D images, while tomosynthesis utilize movement to gain 3D pictures, in a similar way as a CT scanner. However, tomosynthesis models can also aquire 2D images.
Breast imaging is performed while the system compresses the breast between the clear plastic paddle and the imaging detector.
This compression may cause overlapping of breast tissue – Which can hide some of the abnormal tissues, or, on the other hand, superimposed normal tissues may appear abnormal.
In tomosynthesis mammography, the X-ray tube moves circularly around the compressed breast, capturing several images of each breast from different angles. This takes less than 10 seconds.
The data acquired is sent to a computer that produces a focused three-dimensional image of the breast.
The three-dimensional imaging helps minimize the tissue overlap that can hide tissue changes, or can make it hard to distinguish normal overlapping breast tissue from abnormalities.
Advantages of Tomosynthesis Mammography
Overall, tomosynthesis is considered to be a more advanced and detailed imaging technique than a conventional mammogram.
As tomosynthesis mammography can look at multiple breast layers in a 3D image, it overcomes some of the limitations of the conventional mammograms. For instance, it reduces false positive findings.
Furthermore, 3D imaging enables detection of small lesions and other signs of breast cancer earlier than the conventional mammogram. And even earlier than any symptoms arise.
It has a better accuracy in determining the size, shape as well as the location of breast abnormalities.
Additionally, in the tomosynthesis mammography, there is a higher probability of detecting multiple breast tumors.
Disadvantages of Tomosynthesis Mammography
There are a few downsides of using tomosynthesis.
With more images of each breast, there is more exposure to radiation. Nevertheless, the radiation is still minimal and within safe radiation levels for FDA approved mammography images.
Furthermore, the arc of movement of the X-ray tube can vary, which may cause variations in the images.
Regarding prices, you can expect that models with tomosynthesis are going to be more expensive. Moreover, the maintenance costs may be higher as well.
As you can see, tomosynthesis mammos have a few drawbacks. And if your budget is limited, you will be more than happy with a regular mammo system.
Remember that regular mammography machines are powerful and still are the standard in breast imaging.
Sum Up
As we mentioned at the beginning, tomosynthesis mammograms are becoming increasingly popular in the secondary medical equipment market.
Get an easy overview of the main pros and cons below:
What are the advantages of mammography machines with tomosynthesis?
3D imaging provides better results when screening dense breast and earlier detection of breast cancer.
What are the disadvantages of mammography machines with tomosynthesis?
The breast is exposed to more radiation during tomosynthesis, though it remains within safe radiation levels. Furthermore, mammography machines with tomosynthesis are more expensive and due to their higher complexity, they may come with higher maintenance cost.
Finally, it is important to remember that tomosynthesis is a special function. The system has to be a 3D system from factory, and even though you can get it without the software for tomosynthesis, the original system has to be a 3D model in order to get the software later.
If you would like to learn more about mammography systems to prepare you for your next purchase, you can sign up for our new mail course. It will walk you through tomosynthesis, price ranges, model examples and much more.
Join the mammography mail course