4 Measures of X-ray Tube Count on CT Scanners
This article has been updated 26-07-2023
The X-ray tube is one of the most important parts of a CT scanner as it creates the X-rays and is expensive to replace.
X-ray tubes are defined by the amount of heat they can endure, measured in MHU (Mega Heat Unit).
The bigger the number of MHU, the more heat the tube can take.
And hence, perform more examinations.
The usage of the tube is defined by:
Effect x time = tube usage
Since a new tube is relatively expensive, with prices from 50.000 to 150.000 Euro, there is great interest in predicting the CT tube life expectancy.
And despite the importance of CT tube count when purchasing used CT scanners, we have experienced some confusion regarding the types of CT tube count measures.
Especially because different manufacturers have different ways of measuring it.
Therefore, we are providing a simple explanation for each of the following tube measures:
Total patient exams
Clicks/counts
Scan seconds
mAs (milliampere seconds)
You can read more about each of the tube count methods below.
Total Patient Exams
Total Patient Exams is simply the sum of individual cases performed with the X-ray tube.
It does not include info on the length of the exams or how much energy they required.
Hence, it is the most uncertain way to determine the tube use and CT tube life expectancy.
Therefore, it is rarely used, and is mostly given when no other info is available.
Clicks/Count
This method of measuring CT tube count tells you how many exposures the tube has performed.
However, it does not include how much energy has been used during these exposures.
From clicks, you can calculate the amount of time the tube has been used, based on gantry rotation speed.
This term is most commonly used by Toshiba, now Canon Medical.
Scan Seconds
This is a meaure of the duration of the tube exposures, so how much time has the tube been used for. Hereby, it is a more accurate measure than the ones described above.
However, this does not indicate how much effect/heat ran through the tube either.
This is the measure of X-ray tube counts that we see most often and it is popular among most manufacturers, like Philips, GE, Siemens, and Toshiba.
mAs
Milliampere Seconds (mAs) provides you with information on both, the duration of the exposures and on how much power has run through the tube.
Hereby, it is the most accurate measure of X-ray tube count and is mainly used by GE on their CT scanner tubes.
Predicting lifetimes of X-ray tubes is very difficult. But on average a 7 MHU tube will last more than 150 million mAs, and a 4 MHU tube will last approximately 70-100 million mAs.
All in all, the best way to determine the lifetime of an X-ray tube is to have the mAs because this is the most precise measure of the CT tube life expectancy.
But the lifetime is unpredictable and we have seen tubes with high measures last a long time as well.
For example, Philips MRC tubes are very long lasting, and therefore, you can not apply the estimate above.
In the below video, we share with you what you should consider when looking to buy a used Canon Medical​ CT X-ray tube.
We talk about the two main aspects that determine what type of CT tube to buy. We also give exact examples of the type of CXB tube that goes with your CT scanner.
A tip to prolong the lifetime of your CT tube
Make sure to warm up your CT scanner before every examination. This will limit the strain on the system due to heat shock and hereby extend the lifetime of the tube.
If you're looking for a CT X-ray tube, reach out to us at parts@lbnmedical.com – you can also check out our parts inventory yourself.
We hope that after reading this blog post, you have a better understanding of the different methods.
If you are seeking more information about used CT scanners, sign up for our new mail course and receive an e-book: How to pick a CT scanner. It only costs your e-mail.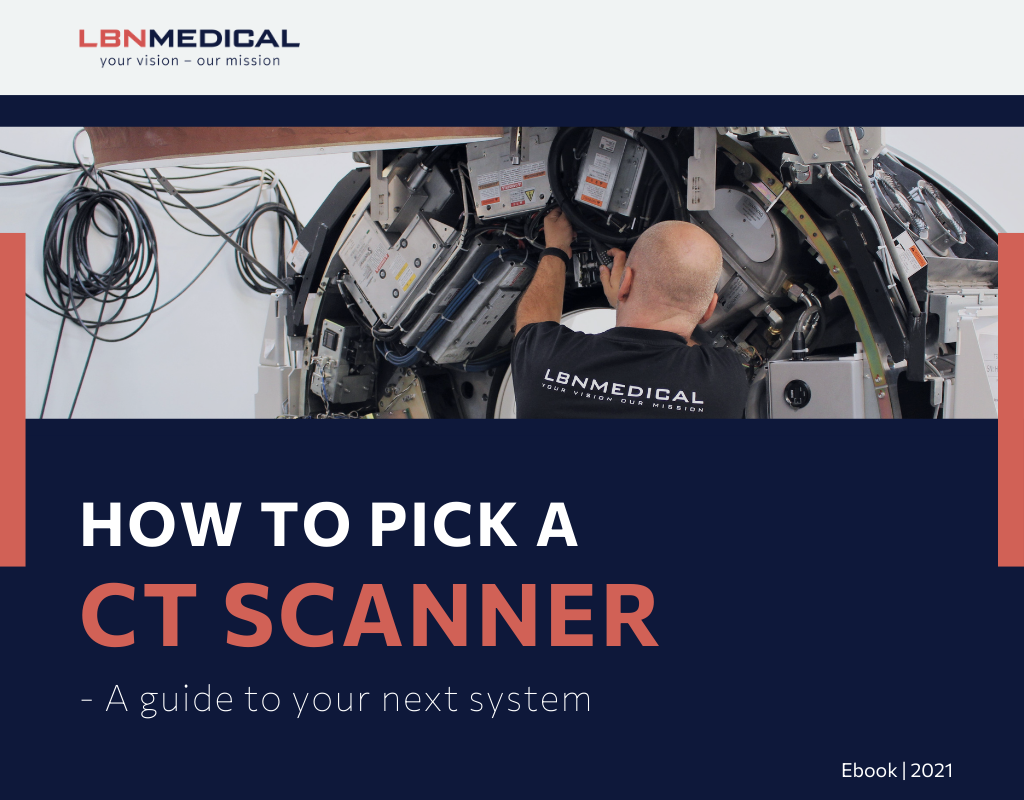 Guide to CT Scanners
Prepare yourself for your next CT purchase with this extensive guide that covers the most important matters to consider when looking to buy a CT.
How Much Does a CT Scanner Cost
An overview of CT scanner prices based on number of slices. Also contains an overview of other important factors that influence prices.