Siemens Acuson X300
Specifications
Request a quote
Description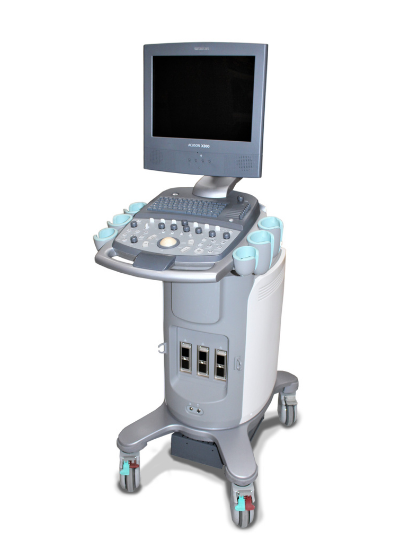 Siemens Acuson X300 (PE) – General Information
The Acuson X300 sonography scanner maximizes efficiency more than ever. It achieves improved diagnostic performance and increased imaging penetration by using the most recent technological breakthroughs in ultrasonography. This includes Hanafy lens technology and SynAps synthetic aperture technology. Furthermore, it is a compact ultrasound system and offers great mobility.
The Hanafy lens technology is improving uniformity from the Field-of-View (FOV) for up to 30 cm depth/penetration. It is the variable-thickness crystal of the lens that allows this. The central portion of the crystal is thin, which creates a focused superficial beam resonating with a high frequency. However, the crystal becomes thicker towards the edges resonating at a lower frequency. Hereby allowing focus at progressively deeper depths during examinations.
Moreover, the Siemens Acuson X300 ultrasound system provides great imaging capability. Furthermore, it has advanced ergonomics and a high level of value, both now and in the future. The Siemens Acuson X300 is lightweight and therefore have effortless mobility. This is ideal when your space is limited. Moreover, it is great when you need to have a fully featured diagnostic in more than one place.
The system provides excellent clinical performance and produces the image quality you need for confident diagnosis. The Siemens X300 brings the benefits of Siemens' advanced core imaging technologies providing robust imaging capability. This is in a system that is surprisingly compact, and easy-to-use.
Siemens designed the Acuson X300 to achieve optimal clinical efficiency. From a customizable patient entry screen to DICOM structured reporting. The system can address each clinic's unique workflow needs. It comes with a DIMAQ-IP workstation, which allows you to save, recall, and handle patient data with speed and efficiency. Thumbnail image display enables easy access to the stored images, which can be later reviewed and printed.
Request a quote
Request a quote for the Siemens Acuson X300
LBN Medical is here to serve. Please fill out the contact form below and we'll get back to you as quickly as possible.