Siemens Sonoline G20
Specifications
Request a quote
Description
Ask for availability
Please fill in the

contact form

for more information on availability on the Siemens Sonoline G20. In case it is not in stock we can source it for you through our network of trusted suppliers.
Request a quote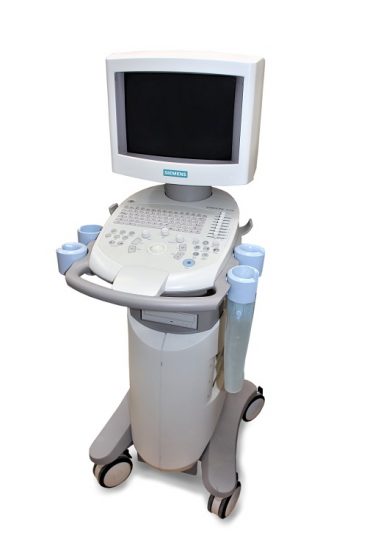 The Siemens Sonoline G20 – General Information
The Siemens Sonoline G20 is a portable ultrasound with a next-generation all-digital system architecture and the latest imaging technologies. Hence, you can be very confident when performing your diagnosis. Siemens designed the system for a wide variety of clinical applications, such as emergency medicine, urology and OB/GYN.
The system combines outstanding image quality, great workflow advancements, user-friendly ergonomics, and proven Siemens reliability. The Siemens Sonoline G20 is not only packed with all the best ultrasound technologies but its design is great as well. It is a slim, light-weight and easily maneuverable ultrasound with a very small footprint for improved energy efficiency.
In addition, the Siemens Sonoline G20 fits into small workspaces and contains plenty of user customizable presets for faster exams and accurate imaging. The system will meet your clinical needs. It will help you to be more efficient, save some of your time and speed up your patient throughput. At the same time, the user comfort increases thanks to ergonomically designed transducers which incorporate lightweight microCaseTM transducer miniaturization technology.
Moreover, the Siemens Sonoline G20 features state of the art beamforming. This technology provides a wide acoustic aperture, better image resolution, and more uniform coverage. It also improves penetration for difficult to image patients and areas.
The Siemens Sonoline G20 ´s architecture enables smooth integration of advanced features such as DICOM connectivity solutions, Tissue Harmonic Imaging (THI) and Tissue Grayscale Optimization (TGO) technology. The THI technology enhances visualization while the TGO technology serves for instantaneous, one-button image optimization. Furthermore, it is a great system for protecting your initial investment in the future. Because Siemens offers ongoing performance enhancements, which require only simple, cost-effective upgrades.
Request a quote
Request a quote for the Siemens Sonoline G20
LBN Medical is here to serve. Please fill out the contact form below and we'll get back to you as quickly as possible.