Philips Brilliance 16
Specifications
Request a quote
Description
Ask for availability
Please fill in the

contact form

for more information on availability on the Philips Brilliance 16. In case it is not in stock we can source it for you through our network of trusted suppliers.
Request a quote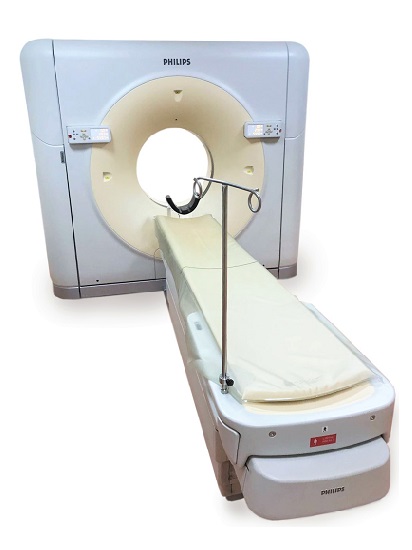 Philips Brilliance 16 – General Information
The Brilliance 16 is a Philips CT scanner that offers sharp images and easy workflows. Furthermore, it is a scanner with a high performance, ideal for routine CT examinations and motion-sensitive applications such as pulmonary studies. Several automated tools for setting up scans and a fast reconstruction increase the efficiency and hereby the flow of patients. Other features ensure a high dose efficiency to limit the x-ray exposure to patients.
The Philips Brilliance 16 is easy to use and offers an ideal work environment for all aspects of CT examination. Including planning, scanning, visualisation, and archiving. Additionally, two optional workspaces offer the opportunity to access even more advanced clinical applications and work with large datasets. Moreover, the workspace of Philips Brilliance 16 allows full DICOM implementation to ease communications in and across clinics and hospitals.
Additionally, it offers a number of optional features, for instance Bolus tracking. This is a technique where the scan is obtained as the tissue of interest reaches the required level of contrast. Furthermore, it has a Pulmonary Toolkit, that enables the user to scan at a certain level of breath. Hereby allowing clinicians to get better images of patients who have trouble holding their breath.
Dose management is important and the Philips Brilliance 16 has been designed to lower the radiation dose that patients and staff are exposed to. Features include DoseRight ACS – Optimizing dose for each patient by obtaining quality images at the lowest possible dose. DoseRight D-DOM and Z-dom that controls tube current and adjust the signal to fit the attenuation. Furthermore, it comes with dedicated paediatric protocols to fit dose to the age and weight of the child.
All in all, a solid and reliable CT system for routine examinations as it will offer great images fit for any clinical setting.
Request a quote
Request a quote for the Philips Brilliance 16
LBN Medical is here to serve. Please fill out the contact form below and we'll get back to you as quickly as possible.