Specifications
Request a quote
Description
Ask for availability
Please fill in the

contact form

for more information on availability on the Hologic Selenia. In case it is not in stock we can source it for you through our network of trusted suppliers.
Request a quote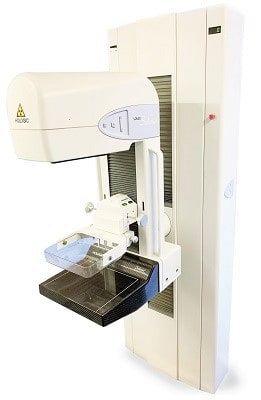 Hologic Selenia – General Information
The Hologic Selenia is a popular mammography system that is one of the leaders in digital mammography. Additionally, it is a mammo system that saves time for healthcare professionals around the world, due to efficient workflows.
The Selenia Digital is able to detect breast cancer early. Therefore, it makes the process of fighting against the cancer much easier for clinicians and their patients. Moreover, this system provides a better detection through better imaging. It is noteworthy, that the Selenia uses a direct conversion detector, which can eliminate the need to convert x-rays to light. The exceptional outcome of this is an amazingly sharp digital image and greater contrast with better consistency. Besides, the Selenia also offers a single detector solution with the 24×29 cm field of view. Generally, it allows for imaging of a wider range of patients without any requirements to additional exposures.
Furthermore, with Hologic's High Transmission Cellular Grid technology, this mammography machine can deliver higher contrast images. Particularly, thanks to a significant radiation scatter reduction with no increase in patient dose.
In conclusion, the digital mammography is not only about an adoption of a new technology. In brief, it creates a future of numerous potential, such as a brighter and healthier future for women. Finally, with the Selenia, everything will be a lot easier, faster, and much more efficient.
If you would like to know more about mammography pricing, then you can read our article to learn more about it:  How much does a mammogram machine cost.
If you are unsure about what mammography model you prefer, you can also get assistance in our newest article – Guide to Mammography Systems.
It covers a range of themes including the differences between analog, digital, and digital mammo with tomosynthesis, accessories and more.
Request a quote
Request a quote for the Hologic Selenia
LBN Medical is here to serve. Please fill out the contact form below and we'll get back to you as quickly as possible.