Fuji Amulet One
Specifications
Request a quote
Description
Ask for availability
Please fill in the

contact form

for more information on availability on the Fuji Amulet One. In case it is not in stock we can source it for you through our network of trusted suppliers.
Request a quote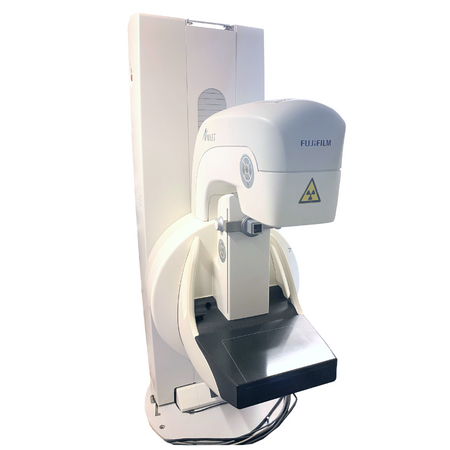 Fuji Amulet One – General Information
Fuji Amulet One sets the gold standard for digital mammography, focusing on delivering the highest image and system quality for an exceptional clinical environment tailored to mammography applications.
Whether you're a healthcare professional looking for advanced diagnostic capabilities or a patient seeking a more comfortable and precise mammography experience, Fuji Amulet One was designed with you in mind.
Streamlined Workflow for Comfortable Examinations
Patients benefit from Amulet's commitment to optimizing workflow by having faster, more comfortable examinations. The rapid erasure of residual electric charge allows for shorter intervals between exposures, resulting in a smoother and less time-consuming process.
The system's ergonomic design is especially sensitive to the needs of women, reducing discomfort and ensuring a more pleasant examination experience. The specially designed Acquisition WorkStation (AWS) integrates seamlessly with X-ray exposure control, increasing efficiency in clinical settings.
Unmatched Breast Imaging Capability
The Fuji Amulet One has the world's smallest pixel size among direct-conversion flat panel detectors, at 50 m. It achieves superior Detective Quantum Efficiency (DQE) with its patented flat panel detector, simultaneously improving image quality and lowering radiation dose exposure.
Fuji Amulet One takes pride of the revolutionary selenium production techniques used to create our flat panel detector, demonstrating our commitment to cutting-edge technology and safety.
Advanced Technologies for Exceptional Imaging
Image clarity is unrivaled thanks to Direct Optical Switching technology and a selenium flat panel detector. Armrests that provide full and balanced support benefit patients, enhancing comfort during examinations.
The streamlined workflow and Fuji's proven FCR imaging technology combine clinical efficiencies and improved image quality, ensuring that each examination is both efficient and of the highest quality.
Designed for Comfort, Precision, and Innovation
Fuji Amulet One is designed to provide a comfortable examination environment for women. Fuji Amulet One is at the forefront of total solutions in digital mammography, with innovation as our driving force and immense potential as our foundation.
In conclusion, the Fuji Amulet One redefines digital mammography through groundbreaking technologies, optimized workflow, and an unwavering commitment to patient comfort. 
Reach out through the contact form on this page to get more information about the Mammography systems currently in stock.
You can also read more about Mammography systems to prepare yourself for your next purchase in our Guide to Mammography Systems.
Request a quote
Request a quote for the Fuji Amulet One
LBN Medical is here to serve. Please fill out the contact form below and we'll get back to you as quickly as possible.