Toshiba Activion 16
Specifications
Request a quote
Description
Ask for availability
Please fill in the

contact form

for more information on availability on the Toshiba Activion 16. In case it is not in stock we can source it for you through our network of trusted suppliers.
Request a quote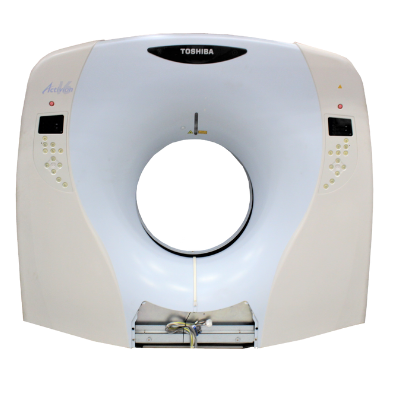 Toshiba Activion 16 – General Information
Toshiba has maintained a global leadership position for over 90 years by manufacturing diagnostic imaging systems to improve the quality of patient care. In the Activion 16, Toshiba brings together inventive technologies in a single control pedestal. 
The Toshiba Activion 16 multislice CT system is a new addition to Toshiba's multislice family. This CT system brings remarkable image quality with a single-console interface. It maximizes both healthcare physician and patient comfort by letting the physician focus on the patient and the examinations, rather than taking time on the system. 
The Activion 16 CT scanner provides advanced additions through an easy operation system just by three steps: Ready (select the scan region) – Set (perform scan planning) -Go (start scanning). This user-friendly system guides the healthcare professional through all remaining operations as they are fully automatic. 
Toshiba not only provides 3D imaging software, but in addition, the CT scan is equipped with bone removal software. It of course means that the 3D pictures can be viewed removing bones from CT angiographic images. 
High-quality MIP images with bone segmentation can be obtained in just a few clicks. The CT scan provides real time preview of bone removal on synchronized 3D and MIP images to ensure high accuracy and diagnostic 3D CT angiograms every time.
SUREExposure™ automatically adjusts the tube current to the patient's body type to reduce the exposure while maintaining high image quality throughout the entire anatomy based on the noise level specified by the user. 
The personalised dose control provides :
up to 40% dose reduction,

automatic tube current modulation,

dose optimised for each patient's anatomy,

intelligent dose reduction with QDS reconstruction. 
SUREStartTM monitors contrast uptake in the target region using intermittent or continuous mode with a low-dose technique, therefore it automatically triggers scanning at the optimal level. This technology allows healthcare practitioners to increase examination efficiency, improve image quality and reduce contrast usage. 
SUREQTM technology is an advanced CT algorithm that applies a variety of post processing filters named automatically. 
The further options are available for Toshiba Activion 16:
SURE

Subtraction

TM

is a revolutionary new technology in brain CTA. The advanced technology provides 3D DSA images for detailed overview of the blood supply to the brain. 

Vessel view provides curved planar reformation (CPRs) of selected images in just two clicks.

Real-time multislice CT fluoroscopy tracks biopsy needle movement in real-time in three continuous images, which makes examinations easier, quicker and more accurate than ever. 
If you are interested in learning more about Toshiba CT scanners, you can visit our guide. You can also take a look at what we offer at LBN Medical in general, or you can visit our Youtube Channel.
Request a quote
Request a quote for the Toshiba Activion 16
LBN Medical is here to serve. Please fill out the contact form below and we'll get back to you as quickly as possible.
Toshiba Aquilion CT Scanners System Overview - LBN Medical