Siemens Arcadis Orbic 3D
Specifications
Request a quote
Description
Ask for availability
Please fill in the

contact form

for more information on availability on the Siemens Arcadis Orbic 3D. In case it is not in stock we can source it for you through our network of trusted suppliers.
Request a quote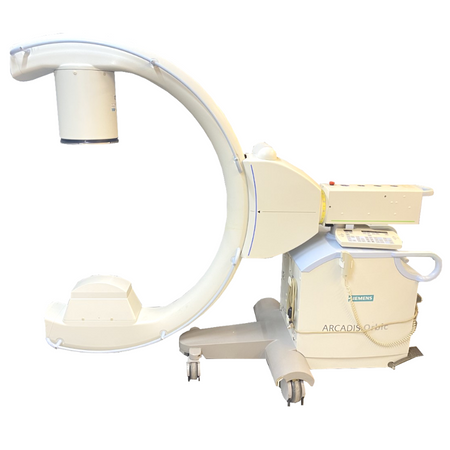 Siemens Arcadis Orbic 3D – General Information
The Siemens Arcadis Orbic 3D is a part of a new generation of C-arm technology. This system provides a wide range of possibilities – both during day-to-day examinations and in the OR. 
Arcadis Orbic 3D uses Syngo software. This means that the system allows you to utilize any type of imaging modality and workstation, as they can all be synced with this software. In this way they all use the same interface for system operation and image processing. 
Furthermore, the Siemens Arcadis Orbic 3D integrates other modalities such as CT and MRI as well. This makes for a highly well-rounded machine with many possibilities for clinical use. Another feature of this machine is that it supports all DICOM 3.0 functions. This makes pre-registration of patients less time-consuming. This is great in the OR. 
Isocentricity is another great addition to this system. This feature provides a clinical efficiency that cannot be compared to other mobile C-arms. Arcadis Orbic 3D uses 190° isocentric orbital movement with a 95° overscan. This is both time and dose reducing. This reduction in time and dose is mainly due to less need for readjustments during use. 
The 1K2  image quality that the Siemens Arcadis Orbic 3D provides gives you a fully digital 1024×1024 imaging chain. This covers receiving the images, processing of images, and any documentation needed. So, it is a highly functional addition to this machine.
To support the high quality imaging, Arcadis has a large flicker-free TFT flat screen. This comes with color or in monochrome, and with high brightness and contrast. Also, it has a viewing angle of 170° making both vertical and horizontal viewing easy. 
Additionally, the Arcadis Orbic has intraoperative 3D with multiplanar imaging. This means that you can generate 3D right in the OR, which is great for patients who need repositioning of fractures etc. The 3D feature enables easier and safer surgical intervention navigation.
Lastly, this machine has been manufactured with people in mind. Therefore, the handling of the machine is designed to accommodate ergonomic needs. Thus handling is easy and convenient – as well as safe for the user.
To sum up, the Siemens Arcadis Orbic 3D is an adaptable machine with many high quality features for ease of use and safety. For patients and staff. 
If you are curious about what other C-arms we offer at LBN Medical – take a look at our X-ray Equipment stock. Or, maybe you want to learn more about different modalities in our Learning Centre.
Request a quote
Request a quote for the Siemens Arcadis Orbic 3D
LBN Medical is here to serve. Please fill out the contact form below and we'll get back to you as quickly as possible.