Toshiba Xario SSA 660A
Specifications
Request a quote
Description
Ask for availability
Please fill in the

contact form

for more information on availability on the Toshiba Xario SSA 660A. In case it is not in stock we can source it for you through our network of trusted suppliers.
Request a quote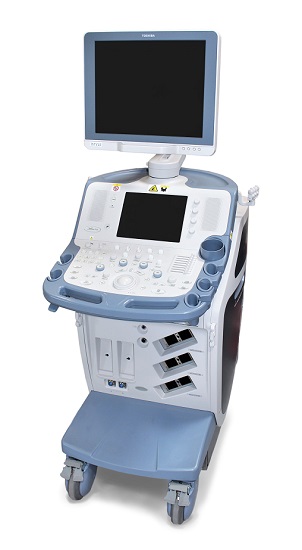 Toshiba Xario SSA 660A – General Information
With the Toshiba Xario SSA 660A, you will get premium technology and compact design at an affordable price. It comes with powerful system architecture and is easy to upgrade. Furthermore, it comes with several features that increase productivity, diagnostic confidence, and the operator comfort. This ultrasound system offers good image quality and a full range of advanced imaging functions. Therefore, it allows clinicians to visualize tissue details and vascular structures with precision.
The Xario comes in three different versions – the SSA 660A, the SSA 660/15, SSA 660A/LG, and the XG SSA 660A. However, cosmetically they mainly differ in terms of monitor, from CRT, to a 19 inches LCD monitor.
Toshiba Xario SSA 660A – Probes and Technologies
The probes for the Toshiba Xario SSA 660A has XBT transducer technology that increases the bandwidth and sensitivity. Hereby, the images are with high spatial resolution and increased penetration. Learn about different types of probes in our blog post.
Other technologies to increase image quality are Pulse SubtractionTM THI, ApliPureTM, and Fast Fusion 3D.
Furthermore, the Toshiba Xario comes with Advanced DYNAMIC FLOW that increases the spatial resolution for Colour Doppler. Hereby ensuring accuracy and a high level of detail, even when examining small vessels and their flow. Fast Fusion 3D provides clear 3D images even of complex structures.
The efficiency of examinations is secured with the ultrasound technologies QuickScan and IASSIST. QuickScan automatically optimizes the 2D gain level and suppress the white noise in echo-weak areas. Furthermore, it reduces scan time, improves the consistency of workflow, and increases the accuracy of diagnoses. IASSSISTTM allows clinicians to operate the ultrasound system remotely and lessens the strain on the operators by enabling more comfortable scanning positions.
Moreover, the Toshiba Xario SSA 660A simplifies complex exams, as it has a one-button execution for user-defined protocols. It also makes it easier to reproduce both routine and complex examinations with optimal scanning conditions.
Request a quote
Request a quote for the Toshiba Xario SSA 660A
LBN Medical is here to serve. Please fill out the contact form below and we'll get back to you as quickly as possible.