Specifications
Request a quote
Description
Ask for availability
Please fill in the

contact form

for more information on availability on the Philips HD11. In case it is not in stock we can source it for you through our network of trusted suppliers.
Request a quote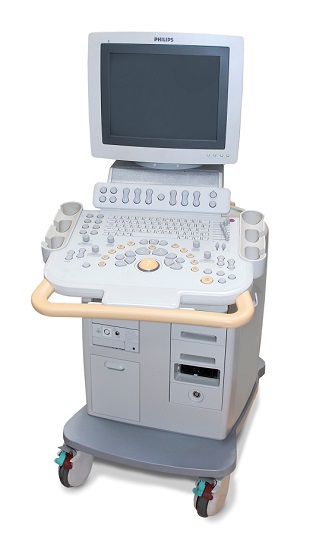 Philips HD11 – General Information
The Philips HD11 is an easy to use and affordable ultrasound system but still with a good image quality. The powerful and versatile platform allows you to customize the system to your needs. It has options that range from stress echo to panoramic imaging and contrast. Furthermore, it comes with XRES image processing and SonoCT imaging, and Philips built it for High Definition performance.
The SonoCT Real-Time compound imaging acquires and processes up to 9 lines of sight, allowing the Philips HD11 to provide clear images, free of clutter and artifacts SonoCT produces superior images compared to conventional imaging.
The XRES – Extreme Resolution Technology performs real-time analysis and refinement of images. This practically eliminates speckle noise artifacts and enhance the texture of tissues, as well as the margins and borders.
The Philips HD11 is a very small and light system, which makes it a great choice if you need mobility. Built with the user in mind it also offers good ergonomics with adjustable control panel and monitor. The five ports reduce the need to switch transducers for different examinations.
Integrated tools ensure efficiency of examinations. These make it easy to achieve optimal images, with either 2D, Doppler, or 4D, with a minimal number of keystrokes. And the iSCAN Intelligent Optimization replaces several steps with a one-button optimization in Doppler and 2D mode. For instance, it automatically samples digital data and adjust gain, TGC, and compression of 2D images.
Other options that are standard on all the HD11 ultrasound systems are: 2D with Pulse Inversion Harmonic Imaging, 3D imaging, Adaptive Colour Doppler, Tissue Doppler Imaging, and more. It also comes with a data management system that ensures that clinicians can easily report findings, complete with images and results.
Request a quote
Request a quote for the Philips HD11
LBN Medical is here to serve. Please fill out the contact form below and we'll get back to you as quickly as possible.