Toshiba Vantage Titan 1.5T
Specifications
Request a quote
Description
Ask for availability
Please fill in the

contact form

for more information on availability on the Toshiba Vantage Titan 1.5T. In case it is not in stock we can source it for you through our network of trusted suppliers.
Request a quote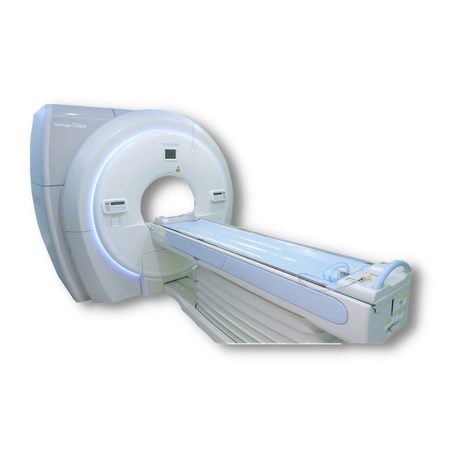 Toshiba Vantage Titan 1.5T – General Information
Toshiba designed the Vantage Titan to satisfy the demands of a challenging clinical environment. Therefore, it addresses the needs of patients, clinicians, and technologists in a single, scalable and powerful MRI platform with a great performance.
Toshiba increased the patient-friendliness with a soft lighting in the gantry, a wide aperture, and a short open-bore design. Moreover, the Toshiba Vantage Titan 1.5T is very quiet, due to an active hardware solution for noise reduction, the Pianissimo™ technology that reduces acoustic noise by up to 90%. These features create a safe and enjoyable scanning environment, therefore, patients are relaxed and compliant, which results in faster exams. Hereby the Toshiba Vantage Titan 1.5T increases throughput and productivity.
Clinicians find great value in the industry's leading high-resolution, non-contrast technology on the Toshiba Vantage Titan 1.5T. Four generations of non-contrast techniques capture the highest quality MRI angiography images and hereby eliminate the need for laboratory tests.
Furthermore, the Vantage Titan provides dynamic RF solutions tailored to any facility. Therefore, it makes it easy to satisfy your current scanning needs and protect your investment in the future. The system carries a wide range of advanced features. As mentioned, it is the first MRI scanner with an active hardware solution for reducing acoustic noise. Additionally, it is the system with the widest selection of non-contrast MRA techniques available.
Moreover, the system has a reduced power consumption – great both for the environment and keeping down the operating costs. M-Power software platform enables clinicians to easily learn how to use the full functionality of the machine. You can start a scan in three quick steps and this reduces time and increase the patient volume. Furthermore, it gives easy access to the advanced post-processing of the Vantage Titan.
All in all the Toshiba Vantage Titan 1.5T is a popular MRI scanner that covers a great range of needs within MR imaging.
If you are still in doubt regarding model and what type of MRI you need, we recommend our Guide to MRI Scanners.
It covers a range of themes including open and closed MRIs, price ranges, helium consumption, what types of coils you might need and more.
Request a quote
Request a quote for the Toshiba Vantage Titan 1.5T
LBN Medical is here to serve. Please fill out the contact form below and we'll get back to you as quickly as possible.