Specifications
Request a quote
Description
Ask for availability
Please fill in the

contact form

for more information on availability on the GE Voluson E8. In case it is not in stock we can source it for you through our network of trusted suppliers.
Request a quote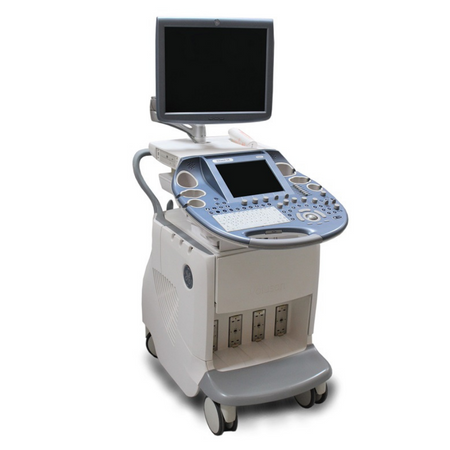 GE Voluson E8 – General Information
The GE Voluson E8 is an excellent ultrasound system and it is popular for Women's Health. This includes OB/GYN, maternal fetal medicine, and assisted reproductive medicine. It has a number of technologies to optimize workflow and improve consistency. Hereby it also reduces scan time and result in a shortened learning curve of healthcare professionals. Additionally, GE designed the ultrasound system for comfort and ergonomic working positions for all users.
The GE Voluson E8 comes with the VCAD tools to ease a number of challenging examinations. This includes the acquisition of volumetric images of the fetal heart. But also, the identification of the four-chamber, left outflow tract, and right outflow tract view, in compliance with recommended guidelines.
Moreover a new 4D transvaginal probe is available that allows earlier detection of fetal abnormalities due to better image quality.
A clipboard feature enables easy post-processing and archiving. It allows healthcare professionals to quickly access images from previous examinations. Furthermore, they can practically be re-scanned by using GE's TrueScanTM architecture.
Systems with BT version 13 offer innovative technologies, for instance, the HDlive that provides outstanding anatomical realism and increase depth perception. Additionally, it has features that enhance visualization of the fetal cardiovascular system, increase quality of echo examinations, and arrhythmia assessment and cardiac measurements.
The GE Voluson E8 is relatively small and lightweight, and this makes it easier to move around. The height of the control panel is easily adjusted to fit each individual user. Furthermore, the display is on an articulating arm, to ensure that your neck can stay in a neutral position.
We also have a blog post about ultrasound pricing if you would like to know what budget you should have ready for your next ultrasound purchase.
You can also learn more about us and what we can offer on our Youtube Channel.
Request a quote
Request a quote for the GE Voluson E8
LBN Medical is here to serve. Please fill out the contact form below and we'll get back to you as quickly as possible.
Comparison of the GE Voluson E8 and E6, Presented by Junfeng Song, Ultrasound Product Manager