Specifications
Request a quote
Description
In stock
Specifications for the Philips iE33
YOM: 2014
Application: Cardio-Vascular
Request a quote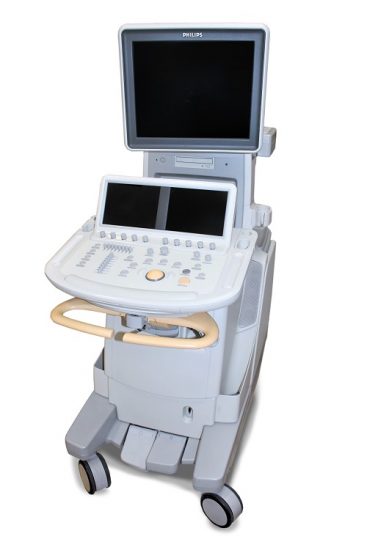 Philips iE33 – General Information
The Philips iE33 is an echocardiography system that is designed to keep pace with the increasing clinical demands of cardiac patients. It offers both excellent two-dimensional imaging and Live 3D Echo. Furthermore, it has several advanced analysis tools to increase accuracy of analyses of cardiac structure, flow, and function.
Automated tools include Live 3D TEE and QLAB. QLAB supports a new 3D iSlice generation that provides MRI-like views of the images. Furthermore, it comes with 3D echo and strain quantification. The latter compares peak myocardial velocities and obtain displacement and strain information. Easy quantification, storage, and review tools on cart and off cart allow clinicians to be efficient in their decision making. Hereby increasing efficiency of workflow.
Many consider it as one of the best cardiovascular ultrasound machines on the market, due to ease of use and image quality. It is also very popular as a used ultrasound system. It acquires clear images on both easy and more challenging patients due to software tools and transducer technology. Furthermore, the Philips iE33 comes with improved penetration and provides very detailed images.
Transducer technologies include PureWave and advanced XRES. PureWave ensures high quality images in any mode, and great Live 3D Echo. And the two combined brings sharp images of incredible resolution. Furthermore, it comes with transducers for several uses, including a full complement of both pediatric and fetal echo transducers.
Philips has designed the system with the workflow of clinicians in mind, and has built-in SmartExam protocols, on screen guides based on exam types. They increase consistency of the exams from different clinicians. Moreover, it comes with several automated functions, including measurement reports. This reduces key strokes and time used for each examination, but also the number of repeated scans.
Request a quote
Request a quote for the Philips iE33
LBN Medical is here to serve. Please fill out the contact form below and we'll get back to you as quickly as possible.