Siemens Axiom Artis Zee
Specifications
Request a quote
Description
Ask for availability
Please fill in the

contact form

for more information on availability on the Siemens Axiom Artis Zee. In case it is not in stock we can source it for you through our network of trusted suppliers.
Request a quote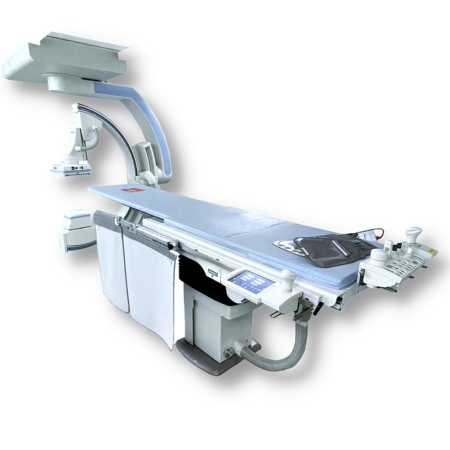 Siemens Axiom Artis Zee – General Information
The proven and reliable Siemens Axiom Artis Zee system delivers optimal image quality at the lowest possible dose. And thus enabling you to optimize your procedure mix and invest with confidence. 
This Siemens cath lab is equipped with industry-leading imaging technology, unique dose management tools, and an extensive application portfolio. 
MULTISPACE.F allows for additional examination positions while maximizing coverage and positioning flexibility. The Artis Zee floor 20×20 features a floor rotation point with motorized swivel, which allows rotation to a left-side position for unrestricted head access. This single plane small detector is the ideal solution for routine procedures, providing fast movement and steep angulations without patient repositioning.
The device's C-arm can be positioned around the table to provide head-to-toe coverage of the patient: right-side for pacemaker implantation, head-side for abdominal procedures, and left-side for standard peripheral procedures.
 Its compact and slimline C-arm design has a small footprint, requires minimal room preparation work, and can fit into an interventional examination room size of only 25 m2. Improved imaging chain with the HDR detector. The HDR detector delivers high-contrast images that show soft tissue in CT-like quality – across the entire image. 
The Siemens Axiom Artis Zee supports you in making the right decisions for individual patients and allows you to grow with future developments. Simply put, the Axiom Artis Zee is a system that prepares you for whatever comes your way and delivers excellent image quality. For every patient, every case and every individual procedure mix.
If you are interested in more information about this Siemens Axiom Artis Zee cath lab and other devices from the series, such as Siemens Axiom Artis dFC, used for cardiac procedures, which LBN Medical can offer, feel free to contact us. You can also visit our Learning Centre to learn more about the different types of equipment that we supply or read our article that talks about Cath lab procedures. 
Request a quote
Request a quote for the Siemens Axiom Artis Zee
LBN Medical is here to serve. Please fill out the contact form below and we'll get back to you as quickly as possible.