Philips Allura Xper FD10
Specifications
Request a quote
Description
Ask for availability
Please fill in the

contact form

for more information on availability on the Philips Allura Xper FD10. In case it is not in stock we can source it for you through our network of trusted suppliers.
Request a quote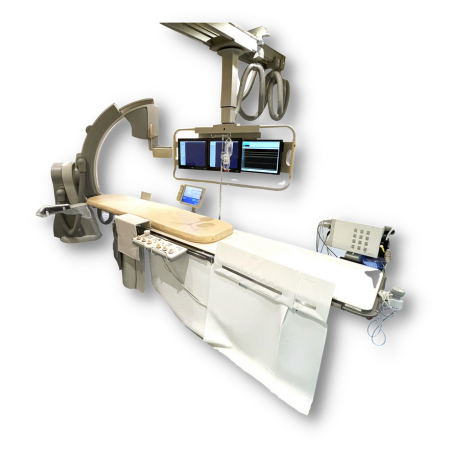 Philips Allura Xper FD10 – General Information
Meet the Philips Allura Xper FD10. A revolutionary cardiovascular X-ray system that redefines precision and performance in heart procedures.
This advanced system combines top-notch technology with crystal-clear image quality. And, it is all wrapped in an easy-to-use design.
Let us explore the Philips Allura Xper FD10's standout features, benefits, and unique qualities.
Get Outstanding Images with Philips Flat Detector Technology:
The Philips Allura Xper FD10 relies on cutting-edge Flat Detector Technology. This provides you with superb image quality.
The new-generation dynamic Flat Detector, featuring Xres technology, improves image contrast and reduces noise. It excels in both heart and blood vessel examinations, even for the most challenging cases. Thi means that you can perform more confident exams.
Experience Efficient Dose Management with Xper:
Xper stands for personalized X-ray. The Xper system allows you to customize system functions for their specific tasks and procedures.
This personalization reduces manual work, streamlines operation, and leads to confident and fast diagnoses.
Allura 3D-RA: Deeper Insight, Quicker Results:
Allura 3D-RA simplifies imaging. This is done by creating high-resolution 3D pictures from a single rotation X-ray.
Allura 3D-RA displays a 3D view in an instant. Which provides a comprehensive look at blood vessel structures. Also, their complex spatial relationships, making complex procedures easier to handle.
Xper Multi-Modality Integration:
The Philips Allura Xper FD10 seamlessly connects with other essential cath lab tools, creating a smooth workflow. It combines advanced image tools, multi-tool access, heart monitoring, and integrated reporting, reducing data entry and offering instant access to crucial case information.
StentBoost for Clearer Stent Views:
StentBoost, a user-friendly and cost-effective tool, improves stent visibility in heart arteries.
The StentBoost Subtract feature goes a step further by showing stents in relation to blood vessel walls, enhancing precision during procedures.
In summary, the Philips Allura Xper FD10 is not just any cardiovascular X-ray system. It is a symbol of innovation and efficiency in heart care. 
With its outstanding image quality, personalized user experience, quick 3D insights, multi-tool integration, and improved stent visibility, the Philips Allura Xper FD10 is an advanced solution. A solution that empowers healthcare professionals to make informed decisions during heart procedures. 
As it sets new benchmarks in the market, this system represents a significant step forward in delivering better patient care and precision in healthcare.
If this system is not for you, check out our other Cath labs in stock right now. You can also take a look at our blog posts if you need more information before making your next purchase. Maybe you want to learn more about Cath lab machine price or what procedures are done in a cath lab.
Request a quote
Request a quote for the Philips Allura Xper FD10
LBN Medical is here to serve. Please fill out the contact form below and we'll get back to you as quickly as possible.