Siemens Somatom Definition AS 128
Specifications
Request a quote
Description
In stock
Specifications for the Siemens Somatom Definition AS 128
YOM: 2009
Software Version: VA44A , syngo 2012B
Slices: 128
Tube Model: Straton MX P
Tube YOM: 2019
Tube Count: 559442
Options Installed: GET_WORKLIST, CAP3D_FILTER_SSD, CAP3D_FILTER_MIP, CAP3D_MAIN, CAP3D_VOIMODE, CARDIO_PRO, CARDIO_RETRO, BOLUS_TRACK, CARE_VISION, CA_SCORE, CARE_DOSE, SYNGO_GENERAL_LICENSE, CAP3D_FILTER_VRT, CAP3D_EDITOR, MPPS_SUPPORT, VOLUME_WORKFLOW, EXTENDED_FOV, CTAPP_MAIN, UHR_03, UHR, CAP3D_BONEREMOVAL, DICOM_SR_VIEWER, CTAPP_FILTER_VRT, CTAPP_FILTER_MIP, CARDIO_BESTPHASE_FINDING, CTAPP_CVF_PHASEVIEWER, DEFINITION_AS, SLICE_128, INTERVENTION_ENH, VOL_PERFUSION_SCAN, MAX_SPEED, MAX_POWER, CARE_DOSE_X_CARE, RECON_ITERATIVE_STEP1, MR_Support_i
Request a quote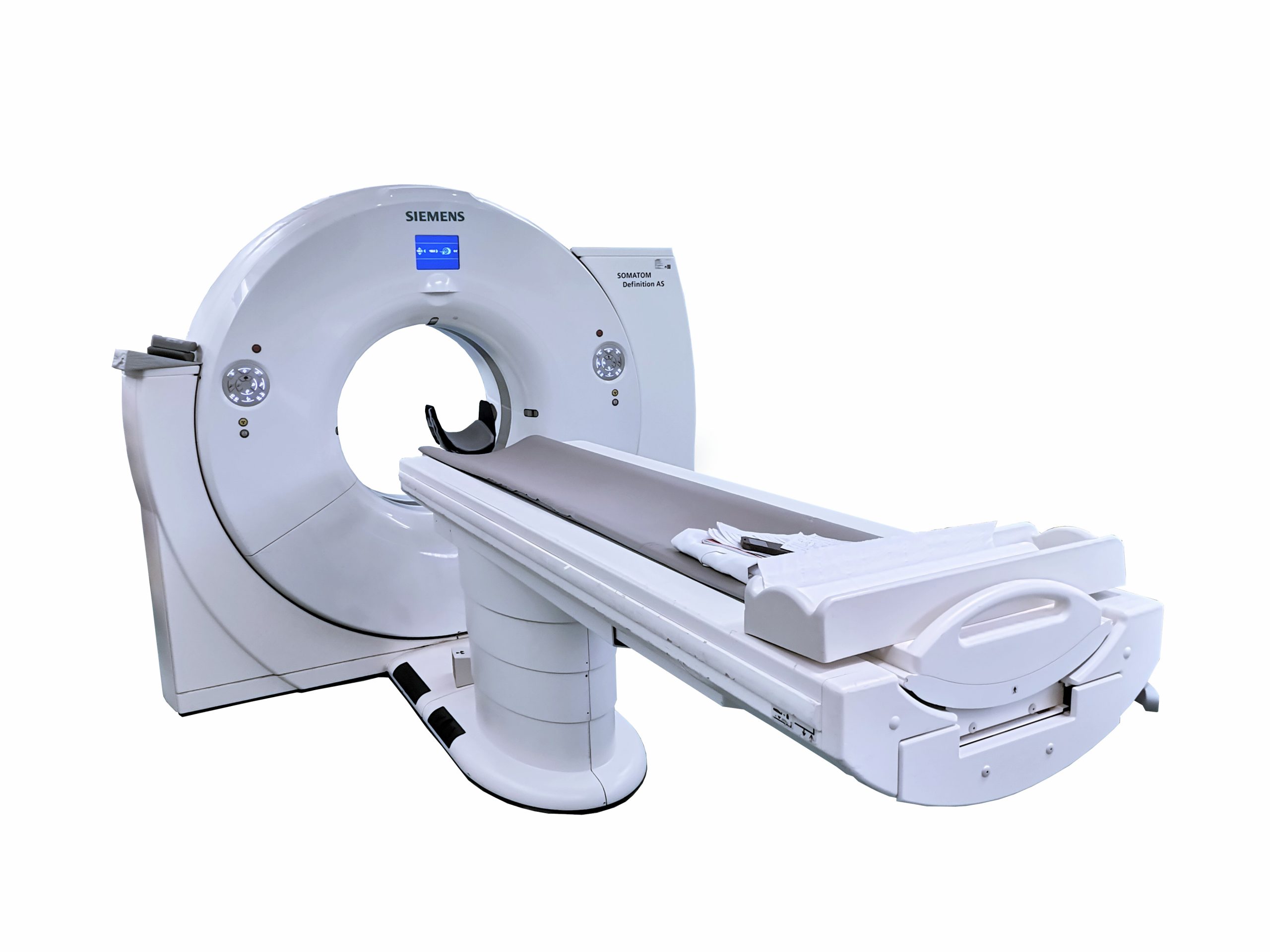 Siemens Somatom Definition AS 128 – General Information
Today, the Siemens Somatom Definition AS 128 is widely used by institutions worldwide, as it helps its users overcome the most common limitations that more conventional multislice CT machines have. 
The Somatom Definition AS is an adaptive CT scanner, which: 
Adapts to any patient

Adapts for complete dose protection

Adapts for new dimensions

Adapts to your space
This means that the Definition AS has high patient safety and great conditions for finding a solution to any clinical question – and fast. The machine can do a full body scan of 2 meters in just 10 seconds due to the 128-slice detector. 
Because of the high true temporal resolution of 150 ms combined with the highest spatial resolution, as well as advanced scanning techniques, the Siemens Somatom Definition AS 128 produces highly reliable imaging. At the lowest possible dose. The machine uses CARE Dose4D™ technology to modulate doses in real-time, which is what ensures impeccable image quality at a low dose. This is no matter if you are dealing with pediatric, cardiac, trauma, or obese patients. 
In addition, to protect from over-radiation both pre- and post-spiral, the Siemens Somatom Definition AS 128 uses an Adaptive Dose Shield. 
The Adaptive Dose Shield is a technology unique to the STRATON X-ray tube design. This type of design makes a shield move so that it blocks any unnecessary doses from reaching the patient during the scan. This reduction in dose further helps you save 25% of the dose in routine examinations.
Furthermore, the Somatom Definition AS has an Adaptive 4D Spiral, enabling you to get a 4D full image of any organs. Thus, a new dimension is added to CT imaging for tumor, stroke, and dynamic CT angiography evaluation. 
Somatom Definition AS is a system with a small footprint, which is only 18 m2. However, it is highly flexible. For example, the system can be cooled by both water or air – depending on your needs. As an extra advantage, the machine can be adapted according to your clinical requirements. Therefore, you can easily transform it from a standard CT to a virtual CT simulator or a trauma unit. Just by exchanging the CT table top. 
The Siemens Somatom Definition AS 128 Slice belongs among the most cost-effective and flexible solutions on the market today.  
If you are curious about what other CT scanners we offer at LBN Medical – take a look at our Siemens CT scanner stock. Or, maybe you want to know how much does a CT scanner cost?
Request a quote
Request a quote for the Siemens Somatom Definition AS 128
LBN Medical is here to serve. Please fill out the contact form below and we'll get back to you as quickly as possible.