Philips Achieva 3.0T
Specifications
Request a quote
Description
In stock
Specifications for the Philips Achieva 3.0T
YOM: 2005
Software Version: Console 5.3.1
Field Strength: 3.0T
Magnet Model: F2000
Amplitude: 80 mT/m
Slew Rate: 200 T/m/s
RF Channels: 32
Coils incl.: Sense Knee, Sense NV 16Ch, Sense Shoulder, Sense Head 8CH, Sense Spine 15Ch, Intera Cardiac coil, Sense Foot-Ankle, T/R Head, Sense Breast 7CH, Sense Wrist 8CH, Sense Torso, Sense Flex S, Sense Flex M, Sense Flex L, Sense Head 32CH, Intera CTL Spine.
Options: Basic SW, SMART-Scan brain, SMART-Scan knee, 2D-VCG, 16 RF channels, 2K imaging, 3D MSK VIEW, Spectro 3D, Advanced EPI, GraSE, 3D Brain VIEW, Spectro SENSE, High SENSE factors, Kt-BLAST, 32 RF-channels, Extended FOV, Keyhole, DWI, DTI, Phase navigators, TE>TR, Functional MRI, Thrive, Q-flow, CentraKeyhole, Contrast enh perf., CENTRAplusKeyhole, Moving bed ima, Adv. moving bed ima, Adv peripheral angio, Whole body, High end recon, Black blood prepulse, Body Resp navigators, MSMP, Multivane, Cardiac triggered IR, Retroperspective, Prosp. motion corr., REST grid, Cardiac perfusion, Cardiac DAI, Interactive, Spectro, T1 Perfusion, DFT, SR-mid, Diffusion calc., Perfusion calc., RT-BOLD analysis, Q-flow analysis, Routine UI, fMRI64K Images, DTI elite, B0-mapping, NIFTI-export, XML/REC data export, DTI advanced, fMRI QA Tool, MobiView.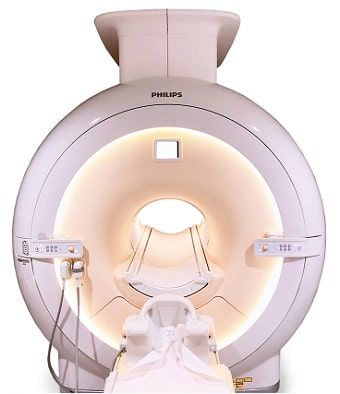 Philips Achieva 3.0T – General Information
The Achieva 3T is an excellent MRI scanner from Philips that is designed to make the scanning process amazingly easy and the magnetic resonance system stronger and faster.
Moreover, this Philips MRI machine has many benefits including fast imaging and a high performing gradient. In addition to that, it has a wide range of application for high volume hospitals and a comfortable patient experience and accessibility. Also, it allows feet-first and head-out examinations with reduced scanning time and its software is very easy to use.
The Philips Achieva 3.0T offers an extraordinary number of innovation, such as Philips ExamCards for loading protocols for a scan. Or a FreeWave technology for fast scanning, and SmartExams that simplifies brain, spine and knee diagnosis. It is noteworthy, that the Achieva has Quasar and Quasar Dual gradient systems that offer gradient amplitudes to provide great performances.
In conclusion, the Philips Achieva 3.0T MRI scan machine is fast, and is able to complete most of the examinations less than 15 minutes.
In order to get to know how much this machine costs – read our article about the MRI price range.
Learn about the benefits of owning an MRI system and which MRI coils types are used in the Achieva 3T.
Read our insightful article about Liquid Helium in MRI Machines – Use, Cost, and More.
Get in touch with LBN Medical sales team to get more information about the Philips Achieva 3.0T MRI scanner or if you want to discuss other MRI machines. We are happy to help you.
Request a quote for the Philips Achieva 3.0T
LBN Medical is here to serve. Please fill out the contact form below and we'll get back to you as quickly as possible.