Hologic Selenia Dimensions 3D (TOMO)
Specifications
Request a quote
Description
In stock
Specifications for the Hologic Selenia Dimensions 3D (TOMO)
YOM: 2016
Software Version: 1.9.1.8
Tube Model: B-115 / M-113T
Tube YOM: 2016
Detector Type + size: RM-PRD-04420
Detector YOM: 2019
HW Accessories: 2 footswitch, 2 face sheeld, 1 mag, 10 paddles, 2 phantoms
Options Installed: TOMO System notices master diagnostic C-view advanced connectivity
Request a quote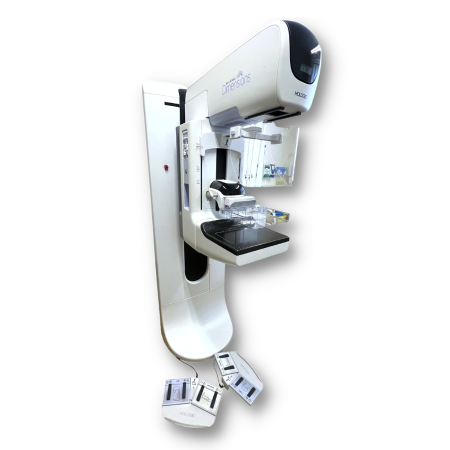 Hologic Selenia Dimensions 3D (TOMO) – General Information
The Hologic Selenia Dimensions 3D is designed to be adaptable to yours, and your clinic or hospital's needs. This is one of the reasons why Hologic provides this system with three different packages.
The package with the Hologic Selenia Dimensions 3D platform allows you to use breast tomosynthesis which lets you perform screenings, diagnostics, and interventional procedures.
All the Selenia Dimensions are created to accommodate you with features such as intelligent ergonomics, exceptional efficiency and outstanding image quality. 
Genius 3D Mammography Exam
One of the main features of the Hologic Selenia Dimensions 3D machines is the C-View software that supports the Genius 3D mammography exams. This type of examination uses low-dose exposure and the images produced are of much higher quality than 2D images.
Also, because of this higher image quality you can be confident that you will perform much more accurate diagnostics. With the Genius 3D mammography exam you are able to detect areas with architectural distortion – that is, areas that are cancerous.
Additional Patient Comfort
An added benefit of the Genius 3D Mammography exam is that you reduce the number of false positive recalls by up to 40%. This of course provides your patients with a higher level of security and comfort. 
Another comfort factor provided by the Hologic Selenia Dimensions with 3D is that it has a scan time of only 3.7 seconds. For you, this lowers the risk of movement and decreases the need to retake images. In turn your efficiency increases.
Other features of the Hologic Selenia Dimensions 3D systems:
Biometric login:

now you can get started by the touch of a finger. All your pre-settings are saved in your fingerprint, and when you log in the system will adjust to your preferences.

Personalized height adjustment:

A motor is set to automatically adjust to your height (from 84cm to 114cm). The setting is stored in the biometric login. 

Touch screen controls:

this intuitive control panel makes it faster to operate the systems during exams.

Hands-free imaging:

with these, it is possible to take images simply by pressing on a foot panel. No more hand and arm fatigue.
If you are interested in what other mammography systems we have in stock, go to our product page for mammo. You can also visit our learning centre to read about mammography systems.
Request a quote
Request a quote for the Hologic Selenia Dimensions 3D (TOMO)
LBN Medical is here to serve. Please fill out the contact form below and we'll get back to you as quickly as possible.