GE Optima CT540
Specifications
Request a quote
Description
Ask for availability
Please fill in the

contact form

for more information on availability on the GE Optima CT540. In case it is not in stock we can source it for you through our network of trusted suppliers.
Request a quote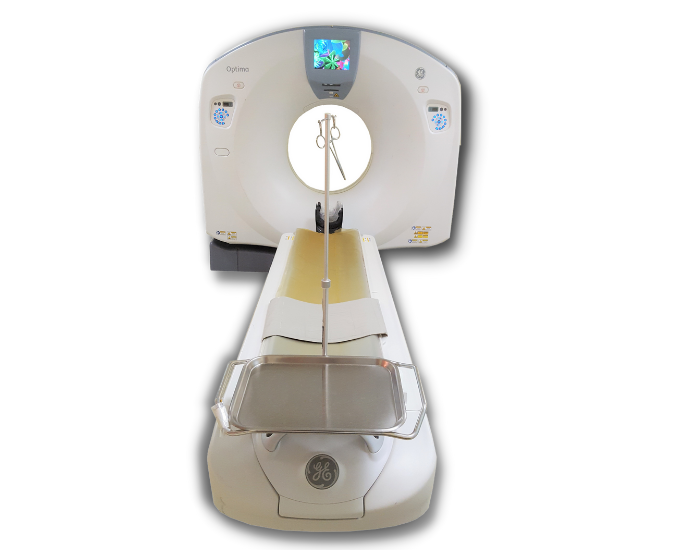 GE Optima CT540 – General Information

GE Healthcare's goal is to provide you with high-quality patient diagnostics with excellent imaging capabilities, combined with image quality and user comfort. That results in great CT scanner offerings, including the GE Optima CT540.
The Optima CT540 is all about improving your patient's experience to make the process of your examinations, more effective from start to finish. This GE CT system is built to provide cost-effective and reliable CT results for high-quality diagnostic imaging.
Whether before, during, or after the scan, the GE Optima CT540 is designed to create a comfortable streamlined environment while maintaining clinical effectiveness and precision. The Default Patient Positioning and emergency CTs are consistent and reliable ease-of-use imaging solutions.
GE Healthcare's DoseWatch dose management solution is the foundation of a comprehensive, proactive radiation management program. You can capture dose data from different imaging models and manufacturer's systems, therefore the DoseWatch gives you sharp, actionable information with configurable alerts.
Furthermore, to mention a few key qualities of this GE CT scanner: the Speed with IQE offers 70 cm chest-abdomen-pelvis in 10 seconds. The GE Varispeed helps you to adapt your acquisition to the right level. The High IQ with Volara Digital DAS offers an increased sampling rate of up to 20% resulting in excellent image quality.
The GE Optima CT540 is suitable for your emergency room too. This CT scanner provides you with imaging that is needed for fast diagnosis. The Emergency Patient Mode allows you to start examinations quickly when every second counts.
Lastly, CT interventional procedures can be completed in seconds. The SmartView Fluoro combines progressive visualisation techniques with display capabilities and real-time reconstruction.
A nominal image lag of only 0.20 second gives you the confidence you need for CT-guided interventions, such as lung, core, and retroperitoneal lymph node biopsies; drainage procedures; pain management procedures; and ablations. 
You will always know where your needle is every step of the way and you can adjust needle positioning for respiratory motion. This CT scan machine allows you to get to your target accurately using the quick image display as your guide. 
To get more information regarding your next CT scanner purchase you can read our complete guide to CT scanners. Please do not hesitate to contact us for further questions, our experts are ready to assist you!
Request a quote
Request a quote for the GE Optima CT540
LBN Medical is here to serve. Please fill out the contact form below and we'll get back to you as quickly as possible.