GE BrightSpeed Elite 16
Specifications
Request a quote
Description
Ask for availability
Please fill in the

contact form

for more information on availability on the GE BrightSpeed Elite 16. In case it is not in stock we can source it for you through our network of trusted suppliers.
Request a quote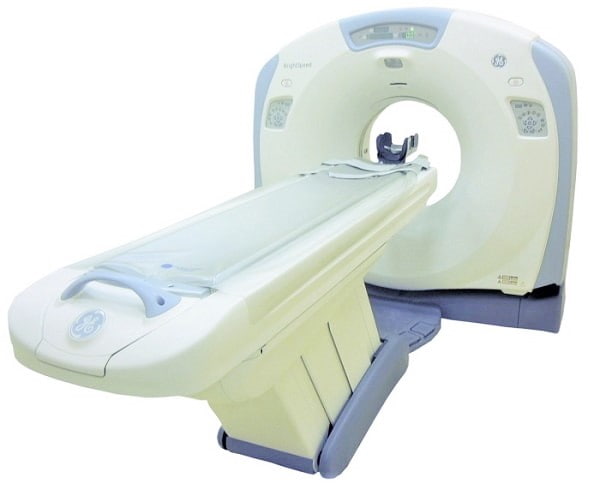 GE BrightSpeed Elite 16 – General Information
This GE BrightSpeed 16 slice is a GE CT scanner that delivers high-image quality at a lowered radiation dose. It comes with several technologies, including ASiR. Furthermore, it delivers a reduction in radiation dose of up to 40%, with no compromises in image quality. Additionally, this technology enables reduction of image noise. However, keep in mind that ASiR is an option on older versions of the Elite but is standard on newer systems.
Furthermore, the GE BrightSpeed Elite 16 slice helps clinicians to be more efficient. The CT scanner has several workflow solutions that accelerate image acquisition, processing, and transfer. GE optimized the workflow at every step, from acquisition to reporting. For instance, they equipped the console of the BrightSpeed Elite with the latest computer technology. Including Intel's® Quad-Core CPU that allows it to manage large, thick-slice datasets with ease.
Moreover, the GE BrightSpeed Elite 16 slice with ASiR maximizes throughput. And it delivers scanning performance equivalent to an 8 MHU tube system. Hereby, it allows you to scan at lower mA, for equivalent image quality. Hence, throughput increases as this reduces the stress on tube and generator. Additionally, you can choose to skip tube cooling to decrease time between exams.
The GE BrightSpeed Elite includes the best technologies from previous BrightSpeed systems. Most importantly the IQ Enhance algorithm. This lets you scan faster without having to worry about sacrificing image quality. Furthermore, the BrightSpeed Elite 16 can provide you with flexibility to address critical situations. From head to toe, the system will produce high quality images across a wide range of applications. Therefore, the performance will be great even if your patients are heavier and larger.
Reach out through the contact form or learn more about CT scanners in our Learning Centre.
Request a quote
Request a quote for the GE BrightSpeed Elite 16
LBN Medical is here to serve. Please fill out the contact form below and we'll get back to you as quickly as possible.