Siemens Somatom Emotion 16
Specifications
Request a quote
Description
In stock
Specifications for the Siemens Somatom Emotion 16
YOM: 2014
Software Version: VC20B
Slices: 16
Tube Model: DURA 422-MV
Tube YOM: Installed in 2019
Tube Count: 402097
Request a quote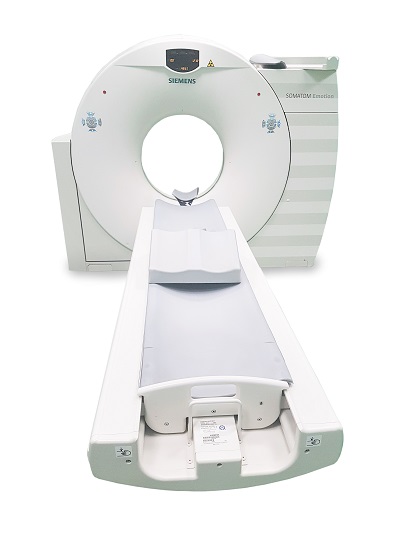 Siemens Somatom Emotion 16 – General Information
The Siemens Emotion 16 slice CT scanner is a part of the Siemens CT scanner line, which is among the most popular in the world. This CT scanner offers Siemens's newest technology advances and makes CT scanning more efficient than ever before. Furthermore, the Emotion 16 obtains top quality images with minimal life-cycle cost.
In CT technology, image quality has always been the first priority. Therefore, the constant focus during development of the Siemens SOMATOM Emotion 16 was on image details and quality. That was achieved through a perfectly designed imaging chain that balances the tube, detector and supporting electronic technologies.
Moreover, it offers a wide range of clinical imaging applications and fast patient flow. The system comes with a software platform syngo® which makes training quicker, more efficient as well as less expensive for your facility. Syngo application platform is revolutionary, very intuitive and easy to use. It optimize up-front patient logistics and ensures easy evaluation of complex volumetric image, hereby streamlining the clinical flow.
This system acquires up to 16 images per second, and performs both routine and detailed, high-resolution exams with ease. Furthermore, the Siemens Emotion 16 is a very compact CT scanner that produces clinically excellent results.
It reduces radiation dose to a minimum thanks to maximum possible acquisition system efficiency using Ultra Fast Ceramic (UFC™) Detectors, optimized application protocols and real-time tube current modulation. At the same time, the Siemens Emotion 16 slice CT scanner decreases ongoing costs, and continuously protects your business through a superior system reliability.
Request a quote
Request a quote for the Siemens Somatom Emotion 16
LBN Medical is here to serve. Please fill out the contact form below and we'll get back to you as quickly as possible.