Fuji Speedia HD
Specifications
Request a quote
Description
In stock
Specifications for the Fuji Speedia HD
YOM: 2018
Slices: 128
Tube Model: VAREX GS-4570
Options Installed: Guide SHOT DOSE CHECK HIMAR CARDIO CARDIO
Request a quote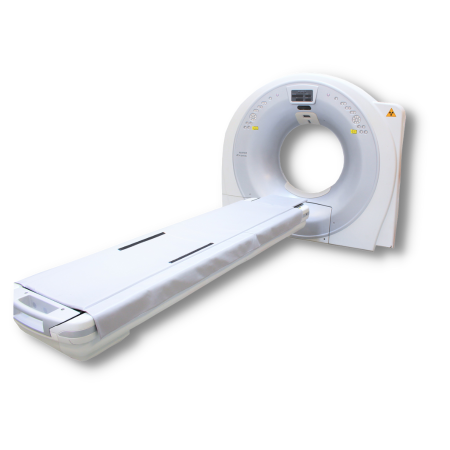 Fuji FCT Speedia HD – General Information
The Fuji FCT Speedia HD 128 slice CT scanner is a cutting-edge imaging solution designed to meet the needs of modern medical facilities. With its advanced technology and user-friendly interface, this scanner offers a range of benefits for doctors and patients alike.
The FCT Speedia HD features a 128-slice configuration, providing high-resolution images with exceptional clarity and detail. Its high-speed data acquisition and reconstruction capabilities allow for fast and efficient scans, reducing wait times and increasing patient throughput.
Additionally, the scanner's adaptive iterative dose reduction 3D (AIDR 3D) technology ensures optimal image quality with minimal radiation exposure. The AIDR 3D algorithm allows for significant dose reduction without compromising image quality, making it a safer option for patients.
Furthermore, the FCT Speedia HD offers versatile imaging capabilities with its wide range of scanning modes, including routine, low-dose, and advanced applications such as cardiac and dynamic imaging. Its dynamic volume imaging mode enables real-time imaging of organs and blood vessels, providing doctors with more accurate and comprehensive diagnostic information.
The scanner's ergonomic design and customizable settings provide a comfortable and efficient user experience. Its large bore size and patient-centric features ensure patient comfort and enable imaging of a wide range of patient sizes and conditions.
In summary, the Fuji FCT Speedia HD 128 slice CT scanner offers exceptional image quality, fast and efficient scanning, and advanced dose reduction technology, making it an ideal imaging solution for modern medical facilities. Contact us today to learn more about how this scanner can benefit your practice.
If you're curious to know more about CT scanners, you can expand your horizon by reading our blog post providing a CT X-ray Tube Guide where you get information about pricing, tube lifetime and much more, or you can read our overall Guide to CT Scanners.
Request a quote
Request a quote for the Fuji Speedia HD
LBN Medical is here to serve. Please fill out the contact form below and we'll get back to you as quickly as possible.