Specifications
Request a quote
Description
Ask for availability
Please fill in the

contact form

for more information on availability on the GE Voluson E6. In case it is not in stock we can source it for you through our network of trusted suppliers.
Request a quote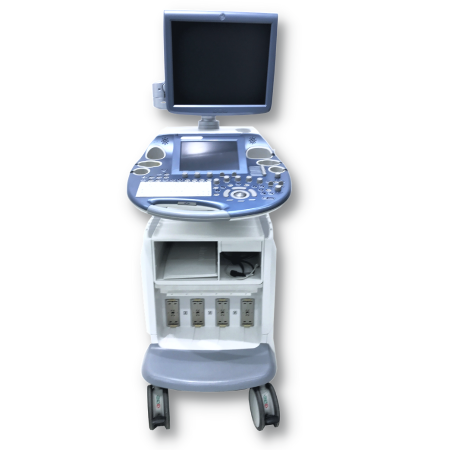 GE Voluson E6 – General Information
The Voluson E6 is a great ultrasound system. It has expandable capabilities that makes it able to grow with your practice. It is an outstanding 4D ultrasound machine. The image quality is high, not only for 4D but also for 2D and 3D. It is a top system with innovative technologies and a great frame rate, but at the same time more budget friendly than some of the similar systems. GE designed it to ease workflow, therefore it has a touchscreen and the buttons you need will be right at your fingertips. Furthermore, is has a lot of automated tools to ease exams and diagnosis through improved image quality.
The technologies include SonoVCADTM heart – a tool that assists when examining the fetal heart. It generates standard views from a four-chamber view and complies with the standard screening exam and a new aortic arch algorithm. The GE Voluson E6 also has the SonoVCAD labor that is active while measuring fetal head progression, rotation, and direction. It automatically documents the course of the labor with objective ultrasound and manual data in one clear report.
Furthermore, the Voluson E6 has a number of quality assurance tools, including the new Scan Assistant feature. It is easy to use and clinicians can customize it to fit their individual needs. Including creating checklists to ensure that they remember all exam steps, defining exam parameters to increase consistency of measurements.
The GE Voluson E6 has a design that optimizes the comfort of the users. It is a small and light system, that allows it to be easily moved around. The height of the control panel is electronically controlled and adjustable at the touch of a button. The GE Voluson E6 also has an environmentally responsible design and is very energy efficient.
Check out other ultrasound systems we have in stock.
Request a quote
Request a quote for the GE Voluson E6
LBN Medical is here to serve. Please fill out the contact form below and we'll get back to you as quickly as possible.
Comparison of the GE Voluson E8 and E6, Presented by Junfeng Song, Ultrasound Product Manager