Toshiba Aquilion Prime
Specifications
Request a quote
Description
In stock
Specifications for the Toshiba Aquilion Prime
YOM: 2014
Software Version: V6.0
Slices: 160
System Count: 1463352
Tube Model: MCS-7178A
Tube YOM: 2019
Tube Count: 385376
HW Accessories: headrest , extension , various pads , straps , loudspeakers , arm-up holder
Options Installed: Alato MultisliceCT, Alato 3D viewer, Alato standard, CB-Hispec, Daily Check, DCM-CDR, Doubleslice, D-PRT-DW, D-PRT-COLOR, EHCT-SCP, EHCT-SCU, MULTIVIEW, MWM-SCU, OVER64HEL, PRINT-SCU, REALEC, REAL-PREP, REAL-VIEW, SCAN80ROW, STRG-SCU, TIFF, TOS-SERVICE, TSB-DVD, WINPRT.
Request a quote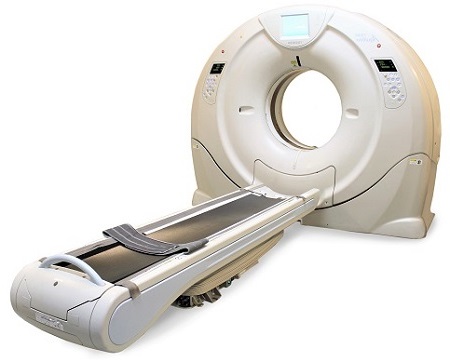 Toshiba Aquilion Prime – General Information
The Toshiba Aquilion Prime is an excellent high-end CT scanner. It incorporates cutting edge technologies that satisfy a wide range of clinical requirements. These new technologies enable high-quality clinical images, with a low dose while also optimizing workflow.
Additionally, the Aquilion Prime supports all routine examinations, and comes with advanced clinical applications. These include ultra-low dose examinations while maintaining high image quality. Also, it has an ultra-fast workflow, that ensures fast data to diagnosis. Furthermore, the requirements of complex examinations seem easy with the Toshiba CT Scanner Aquilion Prime, and it provides the information needed to make treatment decisions. Moreover, it contains a sophisticated suite of clinical applications, providing streamlined post processing.
The Toshiba Aquilion Prime has the option to get coneXact, with double slice technology. This was originally developed for the Aquilion ONE. It enables taking full advantage of volume data and it can reconstruct it in double density. Therefore, the reconstruction resembles the original in MPR and 3D rendered images. Also, with a reconstruction speed of up to 60 fps, the scanned images are available shortly after – even when scanned with 0.5 mm slice thickness.
Furthermore, it comes with the SURE technologies from Toshiba and several other advanced software tools. These all contribute to the improved image quality, the low doses, and the fast processing. The Dual Energy helical scanning allows the system to alternate between high and low kV with each gantry rotation. Moreover, the system can automatically turn off the x-ray exposure when passing in front of the patient. Hereby minimizing the amount of radiation to sensitive organs like breasts and eye lenses.
All in all, the Toshiba Aquilion Prime is an excellent system that offers both superior image quality and improved patient safety.
Want to know more about the general pricing of CT scanners? Read our blog post on the subject.
Request a quote
Request a quote for the Toshiba Aquilion Prime
LBN Medical is here to serve. Please fill out the contact form below and we'll get back to you as quickly as possible.
Toshiba Aquilion CT Scanners System Overview - LBN Medical