Toshiba Vantage Titan 3T
Specifications
Request a quote
Description
Ask for availability
Please fill in the

contact form

for more information on availability on the Toshiba Vantage Titan 3T. In case it is not in stock we can source it for you through our network of trusted suppliers.
Request a quote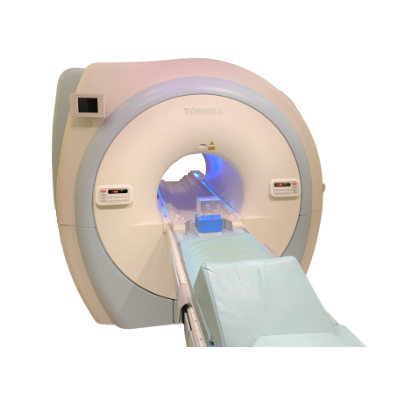 Toshiba Vantage Titan 3T – General Information
The Toshiba Vantage Titan 3T is designed to improve patient comfort and workflow. This MRI scanner delivers on all levels, offering Toshiba's proprietary contrast-free techniques and patient friendly features, such as wide and open bore, noise reduction and feet-first imaging.
The Vantage Titan 3T MR combines Toshiba's expertise from patient comfort to the power of additional diagnostic capabilities.
The Toshiba Vantage Titan 3T MRI features: 
Vantage Titan's bore offers a 71 cm wide aperture. The larger bore helps healthcare professionals to scan bariatric patients with any inconvenience and provides patients with the feeling of openness to help reduce claustrophobia.

Pianissimo

TM

noise-reduction technology reduces exam noise by up to 90 percent. Due to the lower noise levels, Pianissimo

TM

  helps patients to stay more relaxed. This way, the healthcare professionals can achieve successful MRI scannings and significantly reduce repeat exams. 

Contrast-free MRA techniques help evaluate peripheral vascular diseases of the lower legs and extremities. Smaller vessels can be visualised more easily by Contrast-free Improved Angiography (CIA). Furthermore, Time-Spatial Labeling Inversion Pulse (Time-SLIP) helps in the visualisation of the blood flow in vascular structures. In addition, Time Space Angiography (TSA) creates high temporal resolution of non-constasted time-resolved imaging. 

SPEEDER

TM

 reduces the time of each examination, which furthermore improves the exam experience of the patients. This is achieved by coil technology, which is integrated into the table. It saves time for both healthcare professionals and patients, since examinations can be undisturbed and patients do not need to be continually repositioned. 
Vantage Titan 3T MRI scanner is a perfect example of Toshiba´s commitment to technology development, to meet their customers needs to improve both patient and exam experience. 
Feel free to contact us for further information and inquiries – see what used MRI systems we have in stock. And if you are interested in learning more about MRIs, you can read our Guide to MRI Scanners. 
If you are curious, you can read about different medical imaging equipment in our Learning Centre. You can also check our Youtube channel for different videos.
Request a quote
Request a quote for the Toshiba Vantage Titan 3T
LBN Medical is here to serve. Please fill out the contact form below and we'll get back to you as quickly as possible.