Siemens Magnetom Espree 1.5T
Specifications
Request a quote
Description
In stock
Specifications for the Siemens Magnetom Espree 1.5T
YOM: 2006
Software Version: VB19A-SP04
Field Strength: 1.5T
Magnet Model: OR122
RF Channels: 18
Bore Diameter: 70cm
Request a quote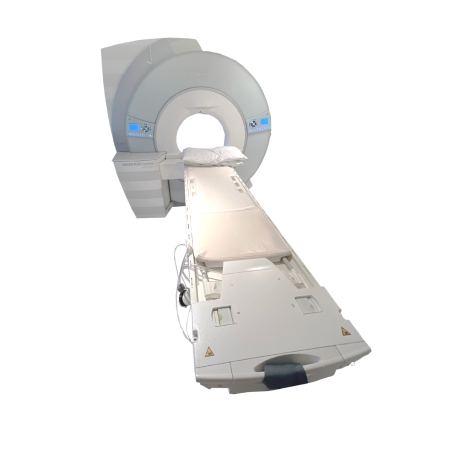 Siemens Magnetom Espree 1.5T – General Information
The Siemens Magnetom Espree 1.5T is an exceptional MRI system that seamlessly combines inventive technology, patient comfort, and clinical excellence. 
Siemens has established a new standard with the Magnetom Espree 1.5T, providing medical professionals with a powerful tool for accurate diagnosis and comprehensive patient care.
Its 70 cm Open Bore, short 125 cm system length, 1.5T field strength, and innovative Tim® (Total imaging matrix) technology will widen your clinical capabilities and open the door to a broader patient referral base, improved throughput, and better profitability
The Magnetom Espree 1.5T delivers exceptional imaging capabilities while operating at 1.5 Tesla field strength. Its high signal-to-noise ratio and superior spatial resolution provide detailed anatomical information. This system supports Diffusion-Weighted Imaging (DWI), Functional MRI (fMRI), and Prostate Imaging, allowing for precise diagnosis in a variety of clinical settings.
Magnetom Espree is based on Tim, the most innovative RF-technology integrated with a radically different Matrix coil design. Tim 4G (Total imaging matrix) technology optimizes both image quality and speed. It accelerates imaging while maintaining accuracy by seamlessly integrating multiple channels and coils. This technology adapts to the anatomy of the patient, reducing scan times and increasing workflow efficiency.
Combine the power and speed of Magnetom Espree with Siemens  syngo® MR applications and you'll find innovations that will transform your workflow. An easy-to-use interface, syngo streamlines your process, helping you to image patients of all sizes and conditions more efficiently, productively, and easily.
The system includes a comprehensive suite of advanced applications that are tailored to various clinical needs. Healthcare professionals gain tools to make informed decisions, from cardiac imaging with syngo DynaCT Cardiac to non-invasive whole-body angiography with the TimCT Angio sequence. Intuitive user interfaces and efficient automation improve workflow, allowing for precise diagnoses and personalized patient care.
Magnetom Espree is helping healthcare institutions around the world to provide clinical care for patients who are eager for a different kind of MRI experience. Magentom Espree can keep you a step ahead.  Now and for years to come.
Reach out through the contact form on this page to get more information about the MRI machines currently in stock.
You can also read more about MRIs to prepare yourself for your next purchase. For example, you can read our Guide to MRI Scanners or An Easy Guide to MRI Coil Types.
Request a quote
Request a quote for the Siemens Magnetom Espree 1.5T
LBN Medical is here to serve. Please fill out the contact form below and we'll get back to you as quickly as possible.