Siemens Magnetom C 0.35T
Specifications
Request a quote
Description
In stock
Specifications for the Siemens Magnetom C 0.35T
YOM: 2006
Software Version: A40
Field Strength: 0.35T
Coils incl.: BODY Array L, BODY Array XL, HEAD Array, NECK MEDIUM, NECK LARGE, SHOULDER, WRIST.
Options Installed: Syngo remote assist, Turbo sequences, Eco planar imaging, Advanced workflow, 1D/2D PACE, Inline Processing, Advanced 3D, Inline imatge filtre, Advanced neuro, Syngo general licence, Application Suite/core Package, Core PLUS, Worklist, 3D Usage licence, 3D MPR(Volume of interest), 3D MIP, 3D SSD, MPPS, Image Filter Software.
Request a quote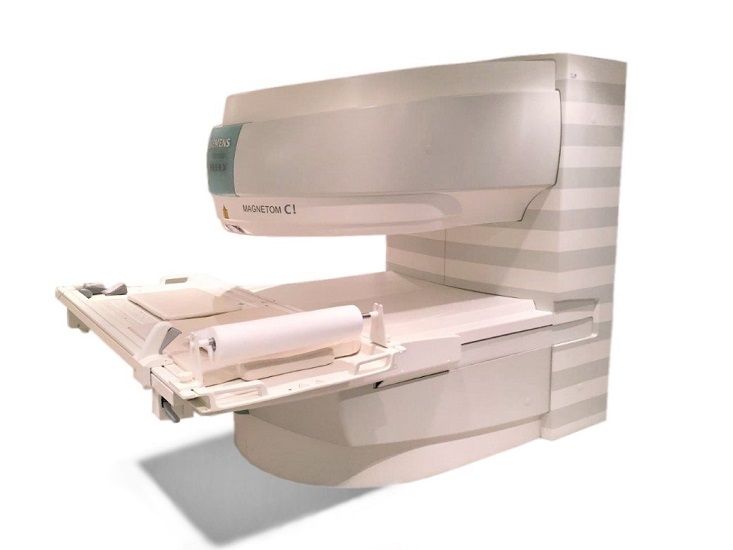 Siemens Magnetom C 0.35T – General Information
The Siemens Magnetom C 0.35T is an MRI which enables high-field capabilities in a mid-field MRI. Hence, it features the largest anatomical coverage in mid-field MRI. You can be confident in your diagnosis due to supreme image quality at 0.35T. Moreover, it delivers outstanding patient comfort with its open, compact C-shaped magnet.
The system is surprisingly powerful and it offers true multi-channel-imaging with up to 4 element coils and 4 channels. You can avoid patient repositioning as it is possible to place multiple coils for extended field of view at the same time. Therefore, the head-to-toe scanning is faster. Also, the system features 3D exams with double oblique slice orientation.
The Siemens MAGNETOM C 0.35T brings patient-friendly side-loading for optimal comfort. Furthermore,, it provides the latest application technology for smooth workflow and optimized component integration for high productivity.
Moreover, the Siemens MAGNETOM C 0.35T is equipped with Tim® Technology, which has become an MRI standard. As the rest of Siemens MRI systems, the Magnetom C 0.35T offers a high level of flexibility. The accuracy and speed of the system meet the demands of today's clinics.
The Syngo Inline Technology enables technicians to perform certain processing steps early – during image reconstruction and display them immediately after completion. The syngo Expert-I gives physicians and experts remote access to the MRI suite.
With the great workflow, image quality, and patient comfort that truly satisfies, the Siemens Magnetom C 0.35T increases healthcare quality. Also, its low operating costs promote a high return-on-Investment.
Do you find the pricing of an MRI system confusing? You do not have to! Instead, read our article about How Much Does an MRI Machine Cost.
Request a quote
Request a quote for the Siemens Magnetom C 0.35T
LBN Medical is here to serve. Please fill out the contact form below and we'll get back to you as quickly as possible.