Toshiba Aquilion RXL
Specifications
Description
Request a quote
Out of stock
Toshiba Aquilion RXL is not currently in stock – Contact us for info on next available system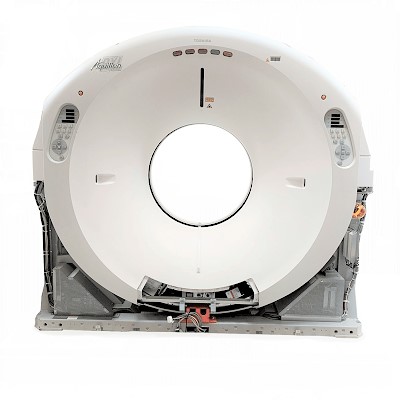 Toshiba Aquilion RXL – General Information
The Aquilion RXL is a quality CT scanner from Toshiba, which can be both 16 and 32-slice and comes with several innovative options. It is effective and offers an efficient workflow – therefore it is a great addition to any clinic or hospital. A CT scanner that offers great resolution at lower doses due to several dose-reducing technologies. These are standard on the Aquilion RXL and ensures the highest possible level of patient safety.
Toshiba has always been committed to reducing the radiation dose. Therefore, the technologies included on the Aquilion RXL are: AIDR (Adaptive Iterative Dose Reduction) 3D, SureExposure 3D, Active Collimator, and Dose Management Functions.
These all contribute to greater image quality at a low dose. For instance, the AIDR 3D is an algorithm that works in both raw data and reconstructions domains. Hereby, achieving the great noise reduction that is essential for achieving low-doses in any routine scan.
You will achieve high performance, ease of use, and enhanced workflow through options such as SureCardio, and SurePlaque. SureCardio with PhaseExact ensures accurate cardiac images as it automatically choose the optimal scan parameters for each patient. These automated protocols provide excellent temporal resolution and increase the workflow and consistency of examinations. SurePlaque is a tool that is developed to assist clinicians when evaluating internal characteristics on blood vessels. It will enable clinicians to easily identify calcified lesions and qualify the plaque burden.
All in all the Aquilion RXL is a well-designed CT scanner that supports the clinicians in all steps from planning the examinations, to actually performing the scan, and all the way through reconstruction and creating the final reports.
Request a quote for the Toshiba Aquilion RXL
LBN Medical is here to serve. Please fill out the contact form below and we'll get back to you as quickly as possible.