Philips Panorama 1.0T
Specifications
Request a quote
Description
Ask for availability
Please fill in the

contact form

for more information on availability on the Philips Panorama 1.0T. In case it is not in stock we can source it for you through our network of trusted suppliers.
Request a quote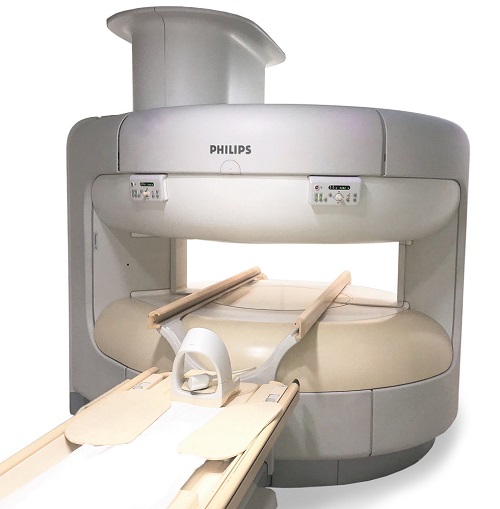 Philips Panorama 1.0T – General Information
The Philips Panorama 1.0T is a high field open MRI system. The bore is 45 cm high with a spacious width opening of 160 cm. Also, it has an incredible 360 degree panoramic viewing angle. In addition, the open design creates a great patient experience and increase patient comfort. Especially for patients that has a tendency to become claustrophobic.
Moreover, the vertical design combined with Solenoid Technology RF coils brings an outstanding image quality that is comparable to 1.5 tesla cylindrical systems. Additionally, the Panorama 1.0T has many other excellent features. For instance, the Free Wave digital data acquisition platform or FastTrack patient table that enables fast and easy patient arrangement. On top of that, if you havea second FastTrack, the next patient can get ready and prepare outside the scanner room while the first patient is being scanned.
It is important to mention that the Panorama 1.0T is remarkably light (only 15.000 lbs) compared to the older versions of Panorama. This makes it easier to install.
To sum up, the Philips Panorama 1.0T is an amazing open bore MRI system. It is easy to use and it makes the examination much more comfortable for both clinicians and patients.
Would you like to get an overview of MRI machine costs? Then read our article about the price ranges of MRI systems.
If you are considering purchasing an MRI – read our blog posts about what the benefits of owning an MRI system are and which MRI coils types are on the market.
Additionally, learn more about Liquid Helium in MRI Machines – Use, Cost, and More.
If you want more information about the Philips Panorama 1.0 T get in touch with LBN Medical sales team.
Request a quote
Request a quote for the Philips Panorama 1.0T
LBN Medical is here to serve. Please fill out the contact form below and we'll get back to you as quickly as possible.