Philips Intera Achieva
Specifications
Request a quote
Description
Ask for availability
Please fill in the

contact form

for more information on availability on the Philips Intera Achieva. In case it is not in stock we can source it for you through our network of trusted suppliers.
Request a quote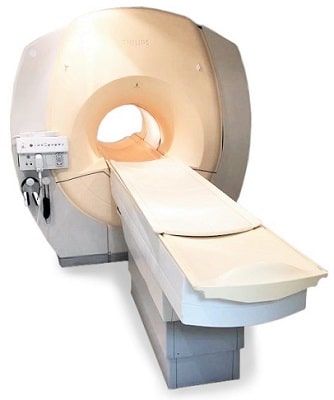 Philips Intera Achieva – General Information
The Philips Intera Achieva is a whole body MRI scanner from Philips. It has a superconducting magnet and an electromagnetic field strength of 1.5 T. Moreover, this system provides great image quality, patient comfort, and the extent of clinical applications needed to perform a wide range of examinations. It is noteworthy, this system comes as a 4- to 8-channel MRI and has a Pulsar gradient. Additionally, the Intera Achieva is an upgrade version from Philips Intera model where the magnet is newer. Therefore, in the advanced version there is different coils and other electronics.
Furthermore, the Philips Intera Achieva is the first MRI with IQ and Smart Exam, which is a big step forward to simplify MRI examinations. Thus, the Intera 1.5 T can identify anatomical landmarks, and it learns and memorizes the operator intent. Also, when the set-up is finalized, it goes through the entire process of the clinical examination automatically, for every single patient. That includes planning, scanning, and processing.
Additionally, the Philips Intera 1.5T is designed to save money and time from day one. It is a pleasure to work with for any healthcare provider due to the features specifically tailored to the clinical needs.
In conclusion, this Philips MRI machine is fast and very easy to use. Hence, the patients need to spend less time in the MRI scanner.
To learn about the MRI price range, read our article about – How Much Does an MRI Machine Cost?
What are the benefits of getting an MRI system? Learn more in this blog post – The Features and Benefits of MRI Systems.
Read our Guide to MRI Coils Types to expand your knowledge.
Get in touch with the LBN Medical sales team for more information.
Request a quote
Request a quote for the Philips Intera Achieva
LBN Medical is here to serve. Please fill out the contact form below and we'll get back to you as quickly as possible.