OrthOne ONI 1.0T
Specifications
Description
Request a quote
Out of stock
OrthOne ONI 1.0T is not currently in stock – Contact us for info on next available system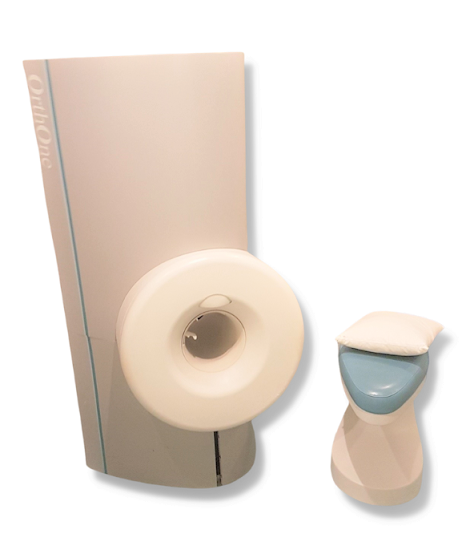 OrthOne ONI 1.0T – General Information
The ONI 1.0T is a unique MRI machine from OrthOne. It is a special system with a design that is specifically for orthopedic applications with high quality imaging. This scanner has many processes and custom designed mechanisms that cannot be found in other MRI machines.
It is noteworthy, that while there are many extremity systems in the market, this is the the first legitimately open high-field MRI for extremity imaging.
The ONI OrthOne system components are divided into three essential functional groups. First of all, an electronics cabinet component, which includes spectrometer components. Secondly, a superconducting magnet that comes with enclosures, laser light, gradient and RF coils, RF transmit/receive apparatus, service turret, cryocooler system, and a patient handling system. All of these are located in an exam room to protect from the noise sources and the integration of the magnetic resonance signal from radio frequency noise, which can come from other components. Finally, an operator console, where the components are accessible to the operator.
Overall, it is a very good system that is uniquely different from other MRI systems.
If you would like to know more about OrthOne Oni 1.0T, contact us at sales@lbnmedical.com or at +45 96 886 500.
Read our blog post about – How Much Does an MRI Machine Cost? to understand the MRI scanners' price range.
Visit our blog to see A Guide to MRI Coils Types and to learn all about The Features and Benefits of MRI Systems.
Would you like to have some knowledge about liquid helium in MRI machines? Then we recommend you to read our newest article about Liquid Helium in MRI Machines – Use, Cost, and More.
Get in touch with LBN Medical sales team in case you want to discuss other MRI machines.
Request a quote for the OrthOne ONI 1.0T
LBN Medical is here to serve. Please fill out the contact form below and we'll get back to you as quickly as possible.