Esaote S-Scan
Specifications
Request a quote
Description
Ask for availability
Please fill in the

contact form

for more information on availability on the Esaote S-Scan. In case it is not in stock we can source it for you through our network of trusted suppliers.
Request a quote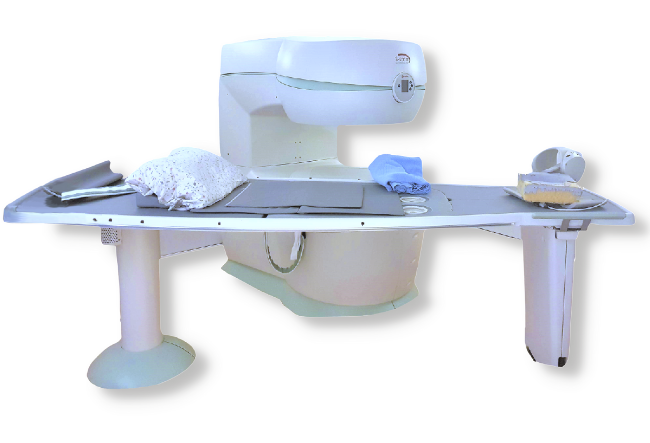 Esaote S-Scan – General Information
This device, designed and engineered by Italian company Esaote is an optimized MRI scanner for practices with the musculoskeletal workload. Esaote has experience with the production of devices in this area since 1993. Their products are specifically manufactured based on the needs of professionals in musculoskeletal anatomy. This area is second most requested, right after neuroimaging and Esaote, has given focus to this and became a world leader in the area.
Systems from Esaote deliver the combination of ease of usage, excellent quality, and optimum patient comfort. That is the reason why they are being used at this moment in many hospitals and laboratories all around the world.
S-scan is running on Windows® system, which allows this device to use various functionalities and be able to easily learn from just being used. The whole interface is designed and customized for musculoskeletal imaging, which increases the speed and simplifies the whole examination.
The wide opening and permanent magnet with 0.25-tesla field strength provide easy access to the patient and the possibility of advanced applications such as MRI arthrography. S-Scan features include wide asymmetric rotating table with 200 kg capacity, which allows various positions of the patient. The table also gives stability and comfort to the patient during the examination. This system with a small footprint can be installed in a single room of 18 m2.
This MRI comes with various RF coils such as lumbar spine coil, cervical spine coil, or wrist, shoulder, knee, and ankle coils. If you want to find more information about MRI coils, click here and read about them in our learning center.
Esaote S-scan has an integrated DVD archive and retrieves software package, printer output facility, and a patient-CD package for easier spreading and sharing of findings from the examination.
On our website, you can also find E-scan and C-scan from the same family and you can learn new information about these and many other MRI scanners on our YouTube channel.
Request a quote
Request a quote for the Esaote S-Scan
LBN Medical is here to serve. Please fill out the contact form below and we'll get back to you as quickly as possible.